Welcome to the Daily Crypto News: A complete Press Review, Coin Calendar and Trading Analysis. Enjoy!
A draft proposal from China's economic planning commission labels bitcoin mining as an industry that needs to be "eliminated." But even if finalized in its current form, this would not automatically amount to an outright mining ban.


While local governments are supposed to follow the commission's guidance, to take action against an industry they need a basis in the laws of the state, not industrial policy.


Further, there are past examples of "undesirable" industries that were eventually recategorized because phasing them out was found to conflict with local interests.   


Seizing on this, miners are arguing that eliminating their industry would also conflict with local interests, in part because they soak up excess electricity that would otherwise go to waste.
Bitcoin has cemented a higher low and retained its bullish market structure on the daily chart after a hotly contested close on April 9.


The hourly chart shows bitcoin is trending inside an ascending triangle (typically bullish by nature) with a potential measured move to $5,885.


An exaggerated bullish divergence has formed on the hourly chart, providing additional weight to the likelihood of an imminent bullish breakout.
International Monetary Fund (IMF) managing director Christine Lagarde has said that blockchain innovators are shaking the traditional financial world and having a clear impact on incumbent players.


Lagarde made her comments in an interview with CNBC on April 10, following a panel devoted to "Money and Payments in the Digital Age," as part of the 2019 Spring Meetings of the World Bank Group and the IMF in Washington, D.C.


Contributors to the preceding panel, which Lagarde moderated, were co-founder and CEO of crypto finance firm Circle Jeremy Allaire, Sarah Youngwood — chief financial officer of Consumer & Community Banking at JPMorgan Chase — the European Central Bank's (SCB) Benoît Cœuré, and governor of the Central Bank of Kenya (CBK) Patrick Njoroge.

Major American cryptocurrency exchange Coinbase has launched Coinbase Card, that enables its United Kingdom-based customers to pay in-store and online with cryptocurrency. The development was announced in a blog post published on April 10.


The Coinbase Card is a Visa debit card powered by customers' Coinbase account crypto balances, which allows them to make purchases with digital currencies worldwide. Coinbase instantly converts customers' cryptocurrency funds into fiat currency in order to complete the purchase.


Coinbase also released the Coinbase Card app for iOS and Android, which links customers' Coinbase accounts with the app and allows them to choose a particular wallet to fund their Coinbase Card. The app additionally provides access to receipts, transaction summaries, spending categories, and other features. The card reportedly supports all digital assets available to purchase and sell on the Coinbase platform.
Facebook is harvesting our data. Cameras track our movements. In New York, landlords want to replace your keys with facial recognition technology. AI, deep fakes, phishing attacks—every day the world looks more like Black Mirror.


Enter the EFF. The Electronic Frontier Foundation, founded way back in 1990, is a non-profit watchdog for "defending civil liberties in the digital world." They do a mix of advocacy, policy analysis, legal work, and reporting. Their site includes recent stories like "To Search Through Millions of License Plates, Police Should Get a Warrant," and "Your Fourth Amendment Rights Should Not be Limited by Terms of Service."


What are some privacy violations that most Americans aren't thinking about?
You don't have to travel far from home to find egregious, systematic privacy violations. Right now there's a bill in Oregon that's a kind of pay-per-privacy thing that would incentivize you to sell your health data. It's bad. And in the mainstream media, people are finally talking about how the first citizens in the United States who experience surveillance techniques tend to be low-income, marginalized communities.
? Daily Crypto Calendar, April, 11th?
AltCoinTrader supports BTT airdrops for current TRX holders. Airdrops occur on the 11th of each month.
"MNPoS will kick in 2 weeks after the release, at block height 2.330.000."
Holochain meetup in Barcelona from 8 – 10 PM.
"The Matrix Token Swap will officially begin on April 11th, 2019."
The NEXT.exchange CEO and COO will be holding their first Reddit AMA.
STEEM Trading Update by my friend @cryptopassion
Here is the chart of yesterday :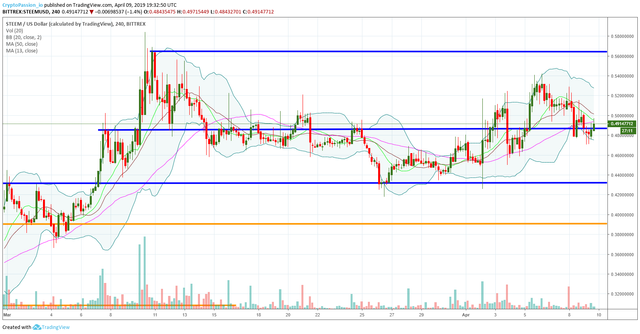 Here is the current chart :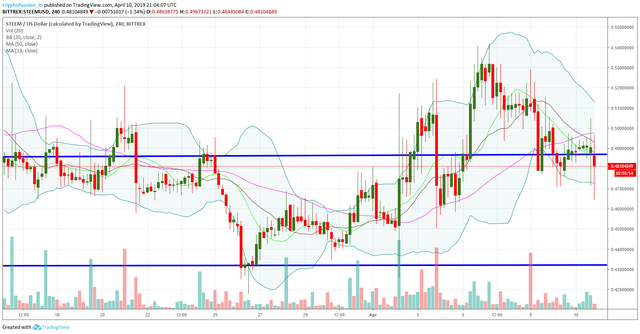 Nothing really special on the STEEM, we are still consolidating around the support line at 0.49$, sometimes lower, sometimes higher. We need to wait a real break out to know the next direction that the STEEM will take. Let's keep a eye on the BTC also because it looks like the STEEM is directly impacted for any little drop from the BTC, for the UP it is another story…
Last Updates
Join this new Free To Play on the STEEM Platform !