Welcome to the Daily Crypto News: A complete Press Review, Coin Calendar and Trading Analysis. Enjoy!
Taekion plans to work on other applications, too, that would help secure energy transactions to protect process data at power generation facilities, increase grid reliability and integrate a more decentralized energy infrastructure.


The project is part of the energy department's Office of Fossil Energy Sensors and Controls program and is funded through the department's Small Business Innovation Research program.


This is not the first time that the department has looked to explore blockchain for technological improvements. Last year, it partnered with BlockCypher to develop solutions allowing energy transactions to be settled across multiple blockchains.
The drop may now have thrown a spanner into a bullish market setup that had looked likely to propel prices to highs not seen since late last year. Had bitcoin's triangle breakout succeeded, a measured move to $5,800 may have been on the cards. However, bitcoin fell $300 short of that target as buyer volume fell short on the day.



San Francisco-based blockchain project Thor Token is shutting down as the project "was not able to gain traction and achieve commercial success." The news was announced by co-founder and CEO at Thor, David Chin on April 9.


Thor — which was built on Neo (NEO) — has announced it is closing its doors as it reportedly could not manage to raise enough capital to come up against the lack of sales, as well as find a new place where it could benefit from more resources.

Muneeb Ali, co-founder and CEO of Blockstack, said in a statement: "We've been working with securities lawyers to create a legal framework that can enable blockchain protocols to comply with SEC regulations."


He continued:


"This can potentially set a precedent for others in the industry, not just for public offerings, but also as a path to launch new public blockchains and establish a path to bootstrapping decentralized ecosystems."
New York-based blockchain startup Flexa has raised $14.1 million to develop a payments network for retailers. The development was announced in a press release published on April 11.


Per the release, Flexa has raised $14.1 million in funding from such participants as early stage token fund 1kx, investment firms Access Ventures and Nima Capital, and hedge fund Pantera Capital, which recently revealed that it was close to completing funding for its third venture fund, already raising $160 million.


The company intends to create a payment network for retailers that would reduce costs, overhead, and fraudulence by means of blockchain-based settlements. Flexa is also planning to release a mobile application through which customers could conduct operations with cryptocurrencies they already own.
? Daily Crypto Calendar, April, 12th?
EMC2Me.io Full Release
LTO participates in Odyseey Hackathon 2019 in Gronigen, Netherlands from April 12-14.
"Don't forget to mark your calendars – exciting announcement event happening on April 12th…"
OKEX cryptocurrency development prospects in Dnipropetrovs'ka oblast, Ukraine from 6-9 PM (GMT+2).
"After the Grand Announcement at the @money2020, we continue the roadshow for our #STO at London's prominent @UKInvestorShow!"
STEEM Trading Update by my friend @cryptopassion
Here is the chart of yesterday :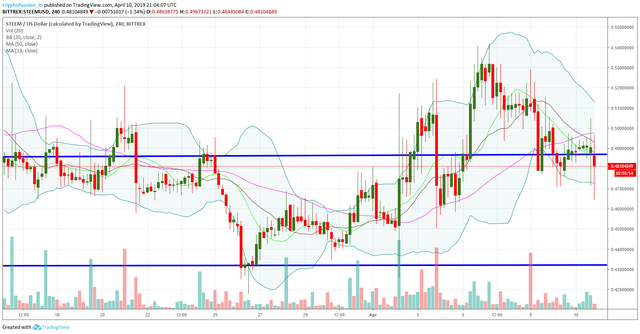 Here is the current chart :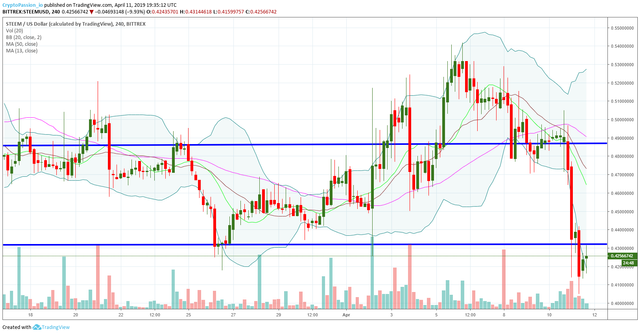 Yesterday, we were testing the support line around 0.49$ but today, due to the drop on the BTC, we broke that support line but also the next support line around 0.43$. We still have a possibility to come back upper that last support line and it will stay a very bad day today for the STEEM with a drop of 10%… What is disapointing with the STEEM is that we have difficulties to go UP during UP trend of the BTC and we are exagerating each DROP of that same BTC… Courage courage dear holders.
Last Updates
Join this new Free To Play on the STEEM Platform !