Welcome to the Daily Crypto News: A complete Press Review, Coin Calendar and Trading Analysis. Enjoy!
Japanese crypto trading platform Liquid has hit unicorn status with the first close of an ongoing Series C funding that puts the company valuation at over $1 billion. The news was reported by Cointelegraph Japan on April 3.


Liquid's parent company is Quoine, a global fintech company licensed by Japan's Financial Services Agency.


As Cointelegraph Japan reports, the fresh funding and new valuation makes Liquid the country's second unicorn in the tech startup space — the other being artificial intelligence firm Preferred Networks, which is backed by Toyota, Fanuc, Hitachi and others.
As a Saudi oil minister once remarked, the Stone Age didn't end because we ran out of stones. It seems it's neither the deficit of a tool nor its deficiencies that make it obsolete, but rather the invention of new tools that do the job better. With increasing competition, will the U.S. dollar continue to be the world's primary currency, will it come to be just one of several reserve fiat currencies, or will cryptocurrency become the new instrument that powers the global economy?

No one can predict exactly how long the greenback era is going to last. What's certain is there are different camps that want to end it for various reasons. And if cryptocurrencies are taken into account, there's an evolutionary push in that direction as well. Bitcoin is an alternative to all traditional, government-issued currencies, of which the dollar is the most recognizable.
Coinbase has revealed the details of its insurance arrangements for cryptocurrency held on customers' behalf, a rare move in an opaque market.


In a blog post published Tuesday, Philip Martin the exchange's vice president of security, confirmed that it is covered for up to $255 million for coins held in so-called hot wallets – in other words, assets which are essentially online and open to potential hacks. CoinDesk first reported in November that Coinbase's coverage was in this ballpark.


San Francisco-based Coinbase holds less than 2 percent of customers' assets in hot wallets, with the remaining 98 percent at arm's length from third-party attacks in cold storage, where the private keys are offline, the company told CoinDesk. (At its height during the crypto bull market, the company stored $25 billion worth of assets on customers' behalf, but the company would not provide a recent figure.)
Online payments giant PayPal has made its first-ever investment in a blockchain technology company.


Announced today, PayPal has joined the extension of a Series A funding round in Cambridge Blockchain, a startup that helps financial institutions and other companies manage sensitive data using shared ledgers.


Neither PayPal nor Cambridge Blockchain disclosed the investment amount, but recent filings with the SEC indicate that Cambridge Blockchain has raised a total of $3.5 million in new equity from several investors over the past nine months. That follows the $7 million close of its Series A in May of 2018, and brings the total capital raised to $10.5 million.
61 percent of high-profile digital companies worldwide are investing in blockchain, according to a report by identity management firm Okta shared with Cointelegraph on April 2.


San Francisco-based enterprise identity provider Okta has released a survey on new trends in technological developments and business opportunities of the world's largest companies.


In its first "Digital Enterprise Report," Okta surveyed 1,050 IT, security and engineering decision makers from global companies with at least $1 billion in revenue. Okta explained that decision makers were defined as someone at the company who is "responsible for making technology purchasing decisions."
? Daily Crypto Calendar, April, 3rd?
Dev team hosts weekly status update at 5 PM (MST) on current developments.
The Wanchain staking pilot from April 3 – July 3. A minimum of 4 Million WAN will be locked for the pilot.
Catex hosts TRX trading competition from April 3rd – April 13th.
First project of KuCoin's Spotlight, "MultiVAC", begins its token sale.
"Trading will begin early next week."
STEEM Trading Update by my friend @cryptopassion
Here is the chart of yesterday :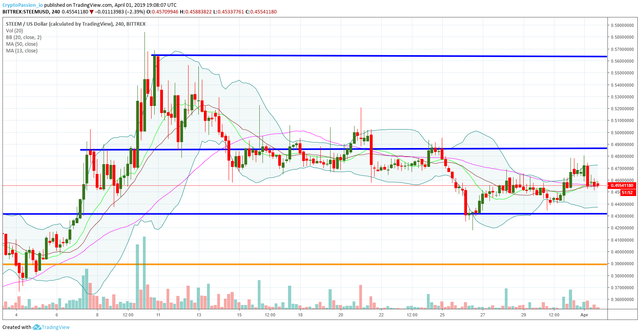 Here is the current chart :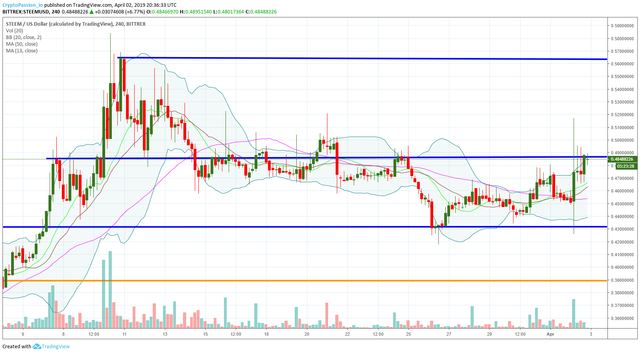 The STEEM had a nice UP also today due to the big move of the BTC. However we are still stuck under that resistance line around 0.49$ and you can see on the chart that we are not able to break it… This resistance line is becoming kinda annoying but let's stay positive that we can break it very soon.
Last Updates
Join this new Free To Play on the STEEM Platform !