Kraken Crypto Exchange to Add Support for BAT and WAVES ;
Bitcoin Risks Slide to $9.5K After Sudden $700 Price Drop ;
US Treasury Blacklists Bitcoin, Litecoin Addresses of Chinese 'Drug Kingpins' ;
Ethereum resources to be translated into 15 new languages ;
Nonprofit Launches Blockchain Platform for Credit History in Sierra Leone ;
? Daily Crypto Calendar, August, 22nd?
STEEM Trading Update
Welcome to the Daily Crypto News: A complete Press Review, Coin Calendar and Trading Analysis. Enjoy!
The complete list of factors with their weighting
Volatility (25%)
Market Momentum/Volume (25%)
Social Media (15%)
Surveys (15%)
Dominance (10%)
Trends (10%)
For a full disclosure on what are these factors exactly referring to please go to their website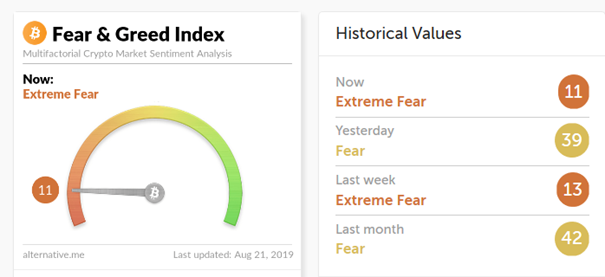 More analysis and thoughs here
We are seeing a very high level of fear (or low level of greed). I posted below a graph of their Fear & Greed Index followed by a graph of the Bitcoin Price.
In the last 18 months, the indicator dipped strongly 2 times before and when it did you can see the reaction by BTC a few weeks later !
To see this graph, go to my previous blog post

American cryptocurrency exchange Kraken is adding support for Basic Attention Token (BAT) and Waves (WAVES.)


According to an announcement on Aug. 21, the exchange's users will be able to deposit, withdraw and trade both assets starting Aug. 22. Kraken will roll out trading pairs between BAT and WAVES and Bitcoin (BTC) and Ether (ETH,) as well as with fiat currencies such as the euro and the U.S. dollar.


"The first trade executions will take a bit longer because sell orders cannot be placed until deposits are credited," the post adds.

View


Bitcoin quickly fell from $10,842 to $10,082 earlier today, confirming a rising wedge breakdown on the hourly chart. The bearish reversal pattern has opened the doors for a retest of $9,467 (Aug. 15 low).


On the way lower, prices may find support at the 100-day moving average, currently at $9,882. The average served as strong support earlier this month.


The bearish case would be invalidated if prices rise above $11,000 with high volumes in the next 24 hours. As of writing, that looks unlikely.
A convincing move above $12,000 is needed to revive the bullish setup, as per the weekly chart.
The U.S. Treasury Department's Office of Foreign Assets Control (OFAC) has sanctioned three Chinese nationals and their cryptocurrency addresses, alleging they violated money laundering and drug smuggling laws.


OFAC named Xiaobing Yan, Fujing Zheng and Guanghua Zheng as narcotics traffickers under the Foreign Narcotics Kingpin Designation Act, freezing any property they own within the U.S. and listing a number of email aliases, citizen numbers and passport information for the three.


The agency also listed a number of bitcoin addresses, as well as one litecoin address, that the agency claims belong to the Chinese citizens.
Ethereum wants to translate all of its resources into 15 languages as part of a push to make the network more accessible, the Ethereum Foundation announced yesterday.


The foundation says it's only focusing on translating its website at the moment—Ethereum.org—but has plans to expand its translations to include "important community resources like documentation, guides, blog posts, and more."


Its first full translation, Ethereum.org/ko, is the result of a team of eight translators led by Taeyeon Kim, and translates everything on Ethereum's recently relaunched site into Korean.
San Francisco-based nonprofit Kiva, a company that crowdfunds loans for financial inclusion, has launched a blockchain platform for credit history with the government of Sierra Leone.


According to a Reuters report on Aug. 21, Kiva and President of Sierra Leone Julius Maada Bio jointly launched the blockchain initiative in the country's capital.


The platform will use biometric data collected by the government, such as fingerprints, in order to access the credit history of citizens in the country. This will purportedly give a way for lenders to obtain citizens' credit history.
? Daily Crypto Calendar, August, 22nd?
"The State of Decentralized Finance" conference from 2 – 5:30 PM at Starfish Mission in San Francisco.
"Manuel ( @TacticalGrace ) & Darko ( @DarkoMijic ) will be attending a #CardanoCommunity meetup in Berlin on August 22."
"Join us and @SesameseedOrg on an AMA on Telegram at 7pm on Aug. 22 PDT (UTC -7)"
"We will soon commence our program of burning unsold SNPC tokens (…) third stage being scheduled for 22nd Aug 2019"
"Trading will start at 18:00 on August 22, 2019 (UTC+8) and withdrawal will open at 20:00 on August 22, 2019 (UTC+8)."
STEEM Trading Update by my friend @cryptopassion
Here is the chart of yersterday :
Here is the current chart :
So the worst case that I was talking about yesterday just happened. We are now testing the low and the support line that I traced for you which has been created by the 2 previous lows around the same level. Till now we have a bounce from this support line but let's see if it will be enough if the BTC continues to correct.
Last Updates
Join this new Free To Play on the STEEM Platform !