Welcome to the Daily Crypto News: A complete Press Review, Coin Calendar and Trading Analysis. Enjoy!
Despite bitcoin's (BTC) recent price surge, the download count of cryptocurrency-related mobile applications is not increasing, Bloomberg reports on June 28


Data form mobile app analytics firm App Annie shows that, while in the first half of 2018 there were 65.8 million cryptocurrency-related app downloads, in the first six months of this year there were 67 million, an increase of about 1.82%. 


This growth is not nearly as sharp as that reported in previous years, considering that the first half of 2017 saw 28.2 million crypto apps downloads from 2016's 15.3 million, a 45% increase.
There is never a dull moment in the world of blockchains and cryptocurrencies.


The two earth-shattering stories of the past two weeks – the launch of the Libra project and the wild swings in the bitcoin market  – might seem like unrelated topics. And, for the most part, the causal impact of the former on the latter is probably not much greater than that of another oft-noted bitcoin price correlation: the avocado chart.


However, the coincidence of these two developments does speak to how globally impactful Satoshi Nakamoto's invention has now become.


From that wider perspective, these two developments are not at all unrelated. Indeed, they both capture elements of a massive, worldwide financial transformation, all happening at a time of growing economic uncertainty.
Last weekend, two privacy coin conferences heralded the future of cryptocurrency governance: the hybrid startup model versus grassroots experimentation.


Over 200 people gathered in Croatia for Zcon1, organized by the nonprofit Zcash Foundation, while roughly 75 attendees gathered in Denver for the first Monero Konferenco. These two privacy coins are fundamentally different in a variety of ways on clear display at their respective events.


Zcon1 had a gala dinner with a seaside backdrop and programming that displayed close relations between companies like Facebook and the zcash-centric startup Electronic Coin Company (ECC), as evidenced by Libra being widely discussed with team members in attendance.
German Blockchain-as-a-Service (Baas) provider Advanced Blockchain AG has become the first blockchain development firm to be listed on Germany's Xetra digital stock exchange, operated by Deutsche Börse. The news was reported by financial news site DGap on July 1.


The Xetra all-electronic trading system was founded in 1997 for use on the Frankfurt Stock Exchange, but has since expanded to over 200 trading participants from across16 European countries, as well as Hong Kong and the United Arab Emirates. 


According to recent data, Xetra accounted for €131.4 billion ($149 billion) of Deutsche Börse's total cash markets €146.0 billion ($165 billion) turnover in May 2019, with an average daily Xetra trading volume of €6 billion ($6.79 billion).
Gemini is hoping to achieve what rival Coinbase couldn't: successfully building out a presence in Chicago aimed at luring high-speed traders to the incipient cryptocurrency market. 


The New York-based firm, led by twin brothers Tyler and Cameron Winklevoss, announced Thursday the new outpost for Gemini, which will scale its existing colocation data centers. In an interesting twist of fate, the firm says it has brought on a number of engineers who previously worked for Coinbase's Chicago office, which was shuttered in April. 


Gemini shooting its shot


A person familiar with the situation told The Block Gemini attempted to recruit several employees who previously worked for Coinbase. They have brought on five, according to reporting by CoinDesk. 
We reached 13.19 mn visits in May 2019!
I] Traffic

Daily Steemit Traffic

Steemit Traffic share by country

In the Top 5, the strongest traffic increase came from Venezuela with +9.75% visits!

Find all the analysis and Datas by clicking on this link
? Daily Crypto Calendar, July, 1st?
V1.0 "Narwhal" release, which includes the MainNet and NKN ecosystem.
"@Harmonyprotocol mainnet launch in 25 days!"
"Launch of BeliΞVE Live-Version on the 1st of July 2019"
"Stratis will be releasing our Cirrus Sidechain Masternodes on 1st July"
NPXS BEP2 integration and XWallet auto-swap, withdrawal, and deposit planned before July 1.
STEEM Trading Update by my friend @cryptopassion
Here is the chart of yesterday :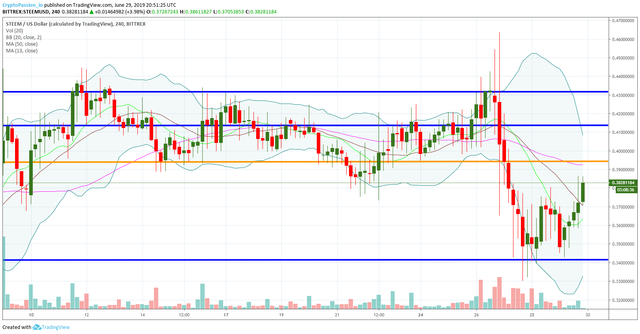 Here is the current chart :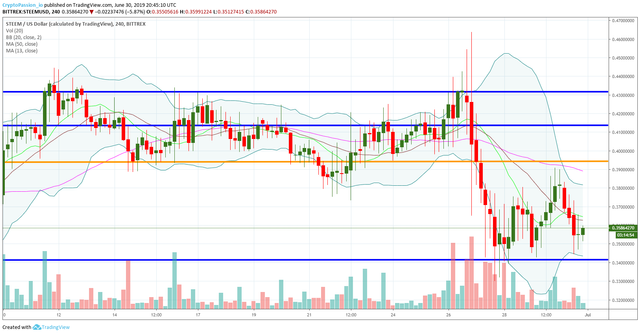 it was too nice to be true on the STEEM. The W pattern that we started yesterday has been invalidated today and we did go test again the support line around 0.34$. The support line at 0.34$ did its job but it is really possible that we finish to break it in case of acceleration of the correction on the BTC.
Last Updates
Join this new Free To Play on the STEEM Platform !