Welcome to the Daily Crypto News: A complete Press Review, Coin Calendar and Trading Analysis. Enjoy!
This could be the first time the Lightning Network, a bitcoin scaling solution, officially impacts the U.S. presidential election.


Roughly a dozen bitcoiners who support Democratic presidential candidate Andrew Yang launched a crypto-friendly super PAC on Thursday, Humanity Forward Fund (Humanity FWD). Thanks to the PAC's payment processor, OpenNode, the entity will be able to accept payments from lightning wallets.


"The super PAC obviously wants to receive donations as large as possible. But at the same time, individuals who want to donate just a bit to Yang's platform now have that opportunity," OpenNode CEO Afnan Rahman told CoinDesk. "It allows the donors to have all of the amount go toward the actual donation rather than miner fees."
Ripple's second-quarter report released Wednesday came with a few surprises: a gain, a loss, and a new partner.
The distributed ledger technology firm's total sales of XRP increased by nearly 48 percent to $251 million in the quarter, outpacing the first quarter's $169 million in sales.


Direct institutional sales drove the uptick, increasing nearly 73 percent to $107.9 million from $61.9 million. Though programmatic sales still accounted for the majority of sales volumes with $144.6 million made in the second quarter up from $107 million in the first.


Despite this growth, the company states in a forward-looking projection:


"Ripple plans to take a more conservative approach to XRP sales in Q3."
The Senate Banking Committee will hold a hearing on regulatory frameworks for cryptocurrencies and blockchain next week.


The committee said in a press release that it would hold an open session titled "Examining Regulatory Frameworks for Digital Currencies and Blockchain" on July 30, though it is unclear if this would be a fact-finding mission or if any specific pieces of legislation would be discussed.


Circle CEO Jeremy Allaire, representing the Blockchain Association; Rebecca Nelson, a member of the Congressional Research Service specializing in international trade and finance; and Mehrsa Baradaran, a law professor at the University of California Irvine School of Law will testify as expert witnesses.
Pantera Capital founder Dan Morehead discussed how Bitcoin (BTC) could hit $42,000 by the end of 2019, and even has the potential to reach $356,000 within a couple years. Morehead delivered his comments on an episode of the Unchained podcast on July 23.


Morehead specifically said that he predicts BTC will hit $42,000 by the end of the year, and climb to $356,000 by 2022. Morehead claimed that this would be consistent with the top cryptocurrency's logarithmic growth rate:


"Graph the price of Bitcoin logarithmically […] its trend is going to grow at 235% compound annual growth rate and […] that put Bitcoin at $42,000 at the end of 2019. And I know this sounds crazy but we're essentially halfway back there. […] I think it's a good shot that by the end of the year we hit that. And if you just extrapolate that line out for another year it's $122,000 per Bitcoin and then one more year, $356,000."
United States Treasury Secretary Steven Mnuchin voiced new bearish views on Bitcoin today, saying that he probably will not be talking about the number one cryptocurrency in as soon as five years. In an interview with "Squawk Box" CNBC on July 24, Mnuchin said:


"I won't be talking about Bitcoin in 10 years, I can assure you that […] I would bet even in 5 or 6 years I'm no longer talking about Bitcoin as Treasury Secretary. I'll have other priorities […] I can assure you I will personally not be loaded up on Bitcoin."


Mnuchin's latest remarks follow a recent statement about how cryptocurrencies primarily exist as a vehicle for crime and speculative investment, saying, "I think to a large extent, these cryptocurrencies have been dominated by illicit activities and speculation." 
? Daily Crypto Calendar, July, 25th?
EOSFINEX Launch
Developer roundtable at 4 PM (UTC) with CTO and ARK delegates to discuss and future development of the Tier-0 program.
"#GOExchange community burns will happen once a month. The first one will be on July 25th."
SparkPoint ( SRK ) will conduct its 3rd quarter burning of SRK tokens on July 25, 2019.
Meetup with NEO, LagomX, and Coin68 in Ho Chi Minh City, Vietnam from 14:30 – 15:30 (Indochina Time Vietnam Time).
STEEM Trading Update by my friend @cryptopassion
Here is the chart of yersterday :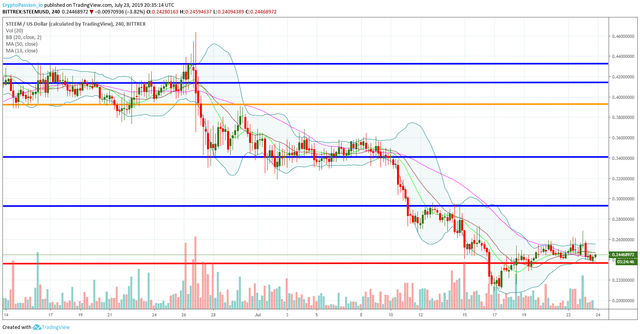 Here is the current chart :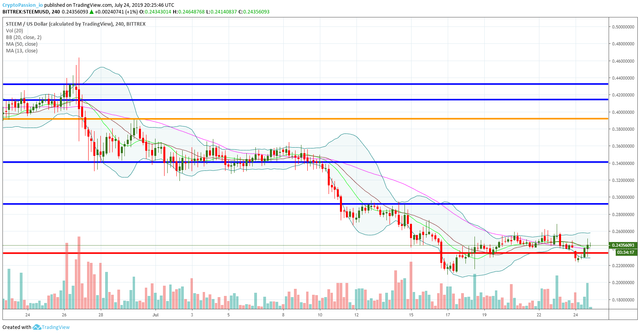 The support line at 0.24$ has been broken during some hours but it triggered an immediate bounce. It shows that this support line is quiet solid, at least from now. I don't think we will be able to resist if the correction is continuing on the BTC but let's at least enjoy that little good news. Steem is still alive….
Last Updates
Join this new Free To Play on the STEEM Platform !