Welcome to the Daily Crypto News: A complete Press Review, Coin Calendar and Trading Analysis. Enjoy!
Over 30 advocacy groups have appeared as signatories on a request that Congress and regulators implement an official moratorium on Libra development, as per the letter published on July 2.


The letter was also addressed to Facebook, with Mark Zuckerberg himself cc'd, and asked that the social media giant wait until Congress and regulators have scrutinized a detailed presentation of the proposed stablecoin-esque virtual currency.
The letter includes a number of questions that the signatories say need answers before Libra can proceed, including the following:


"The plan for Libra makes explicit and implicit promises to consumers – such as the claim that value will remain stable – but what is to stop the Libra Association from changing policy in order to, for example, degrade the value of Libra or to impose a microtax on every Libra transaction?"
Ethereum's leaders are pursuing a "moonshot" in the Middle East.


The Ethereum Foundation's head of special projects, Virgil Griffith, told CoinDesk the nonprofit is partnering with finance experts in the Gulf Coast to show that the world's second largest blockchain is compatible with Islamic law. Islamic finance customs adhere to certain beliefs, including the prohibition of earning interest on loaned funds.


The move is seen as a first step toward potentially securing investment from the region's plutocrats.


"My job is to keep rolling dice," Griffith told CoinDesk about work to certify ethereum's Sharia compliance. "Probably nothing will happen. But there's a hypothetical case where say, the Saudi sovereign wealth fund invests, like, a trillion dollars [in ethereum projects], which would be a real boon. That would be really great."
The operator of Binance's upcoming U.S. crypto exchange, BAM Trading Services, has hired a former Ripple executive as its CEO.


BAM announced on Tuesday it had appointed Catherine Coley as CEO, who will be responsible for rolling out Binance U.S., as well as expanding the exchange's marketplace in North America.


Prior to joining the firm, Coley was the head of  XRP Institutional Liquidity at San Francisco-based distributed ledger tech startup Ripple, BAM said in the announcement.

Before entering the blockchain and crypto space, Coley worked for banking giant Morgan Stanley in Hong Kong and London in the institutional foreign exchange market, and handled international payments and global treasury management for startups while at Silicon Valley Bank.


Changpeng Zhao, founder and CEO of Binance, said in the announcement:


"I am confident that with Coley's leadership and Binance's leading technology platform, Binance.US will be able to provide valuable services to the U.S. community."
The Winklevoss-owned cryptocurrency exchange Gemini will apply for a broker-dealer license from the Financial Industry Regulatory Authority (FINRA), CoinDesk has learned.


This is the first step toward becoming an approved Alternative Trading System, where customers can lawfully swap digital securities.


Gemini previously partnered with the tokenized securities platform Harbor, which allows institutional investors to buy securities with Gemini's GUSD stablecoin and to also receive dollar-denominated dividends via GUSD. It stands to reason that Gemini would also want to facilitate the trading of such securities on its own platform.
Cuba is the latest country to consider using cryptocurrency to skirt U.S. sanctions, Reuters reported quoting a government source on July 3.


In a public address on local television, the country's president, Migual Diaz-Canel, said the plan would raise capital for around one quarter of the population, helping to pay for reforms. 


Cuba has felt a severe knock-on effect from the crisis in Venezuela, which was previously a major source of aid. 


"We are studying the potential use of cryptocurrency… in our national and international commercial transactions, and we are working on that together with academics," Reuters quoted economy minister Alejandro Gil Fernandez as saying.
? Daily Crypto Calendar, July, 3rd?
Browser / explorer Launch on 3rd of July.

PC wallet grand launch on 3rd of July.
"On July 3 at 10:00 am GMT+8, CEO and Co-Founder of #PundiX @zibin will host a video session to talk about the progress made in Q2…"
"We are changing the #Celer X @binance AMA schedule to July 3rd 2pm UTC to combine with our Mainnet Exclusive Preview Happy Hour!"
CEO Giacomo Tognoni, will give an overview of Bethereum and the unique solution it brings to both the gaming and the gambling industries.
Live Q&A with Thomas Marchi, Lead Developer of Sentivate. July 3rd at 22:00 GMT.
STEEM Trading Update by my friend @cryptopassion
Here is the chart of yesterday :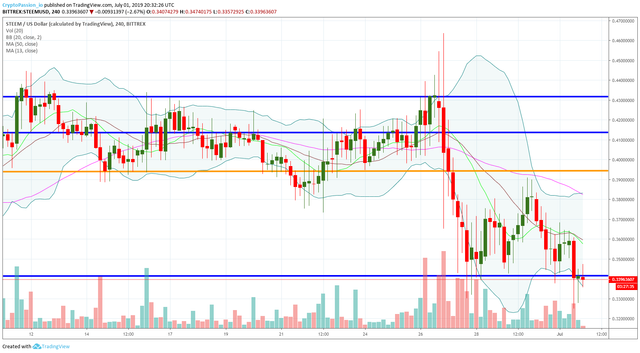 Here is the current chart :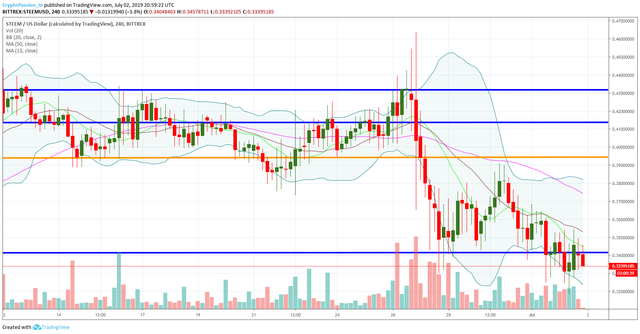 The BTC is doing a bounce from 10k but you know what? STEEM doesn't want do the same and is dropping… So yeah, technically, the support line at 0.34$ is broken. However we are staying just next to it and so it could be simply a little trap or not a real break of that line. Let's see if we will be able to be higher than this line in the coming hours.
Last Updates
Join this new Free To Play on the STEEM Platform !