Welcome to the Daily Crypto News: A complete Press Review, Coin Calendar and Trading Analysis. Enjoy!
Growing up in liberal Canada, Vitalik Buterin—co-founder of the world's second biggest blockchain, Ethereum—was never allowed to forget his Soviet heritage.


Canada is obviously a far cry from Soviet Russia. But it does have strong socialist tendencies, as Dmitry Buterin told early bitcoin adopter Jeff Berwick, in a recent interview. In the video clip, Buterin senior explains that his heritage was key to helping the would-be-entrepreneur look to alternative ways of organising people and ideas, that would ultimately lead him to blockchain.

The father of the 25-year-old boy-genius, Dmitry Buterin, 46, is from oil-rich Chechnya—a region which suffered some of the worst atrocities committed in Russia's long, authoritarian past.


Buterin senior studied computer science in Moscow before turning serial entrepreneur. He emigrated with his family to Canada, when Vitalik was six, settling in Toronto. But the Soviet experience, during his formative years, has naturally stayed with him.
? SEC-Registered Clearing House Brings Crypto Trading to 5 Million Clients
American financial clearing and execution company Apex Clearing and its crypto investment subsidiary Apex Crypto have launched a new trading platform for broker-dealers and financial advisors to help their clients trade crypto more effectively. 


According to a June 27 press release announcing the new broker-integrated Apex Crypto platform, equity investors will be able to seamlessly open and fund new crypto trading accounts "within minutes" — rather than the purported weeks it would usually take clients to do so.


Founded in 2012, Apex Clearing is an SEC-registered and FINRA member digital wealth management firm owned by American financial services company PEAK6 Investments LLC. 
Members of the U.S. House of Representatives questioned Financial Crime Enforcement Network (FinCEN) director Kenneth Blanco about Facebook's planned cryptocurrency Thursday.


Representatives Emanuel Cleaver, II (D-MO), Trey Hollingsworth (R-IN), Bill Foster (D-IL) and French Hill (R-AR) held a briefing with members of the House Financial Services Committee, discussing the Libra project with Blanco, who heads up FinCEN, the U.S. Treasury Department's anti-money-laundering wing.


The briefing was held as part of a broader look at how machine learning and artificial intelligence can limit illicit money laundering and related activities.
What started as a $575 million token sale is now a rewards program for watching videos.


TaTaTu's initial coin offering (ICO) was among the biggest of 2018, with film producer Andrea Iervolino raising money from royals like Lady Monika Bacardi, of the famous liquor family. Before this raise, Iervolino was best known for films such as "Bernie The Dolphin" and "Finding Steve McQueen."


As some token sales start to slowly yield results, TaTaTu offers a prime example of a platform that used "blockchain" as a fundraising technique and then largely moved on.


The TaTaTu project, originally meant to offer a publicly traded cryptocurrency associated with a media streaming platform similar to Netflix, once attracted investment from Ari Paul's BlockTower Capital (which declined to comment for this article) and movie stars like Johnny Depp (whose representatives did not respond to requests for comment).
San Francisco-based incubator for the blockchain Ethereum Classic (ETC), ETC Labs, has announced that it has partnered with cryptocurrency firm Metronome to create a solution for Ethereum (ETH)/ETC interoperability, in an official blog post on June 27.


Per the announcement, blockchain interoperability—also referred to as "chainhopping"—is a property of a blockchain asset meaning that it can be transferred between separate blockchains. In this case, the cryptocurrency Metronome (MET) will be transferable between the ETH and ETC blockchains.


The ETH and ETC blockchains initially split in the summer of 2016 after a contentious vote to return money lost when The DAO collapsed in 2016. 
We reached 13.19 mn visits in May 2019!
I] Traffic

Daily Steemit Traffic

Steemit Traffic share by country

In the Top 5, the strongest traffic increase came from Venezuela with +9.75% visits!

Find all the analysis and Datas by clicking on this link
? Daily Crypto Calendar, June, 28th?
The Litecoin Cash block mining reward halves every 840,000 blocks, the coin reward will decrease from 250 to 125 coins.
"We are happy to announce that our platform prototype will be released on June 28th."
"Send us your entry by 19:00 GMT 28 June to win up to 5,000 #FET tokens in prizes"
EdenChain Mainnet will be officially launched on June 28th, 2019 (KTS).
V20 Summit from June 28-29 in Japan.
STEEM Trading Update by my friend @cryptopassion
Here is the chart of yesterday :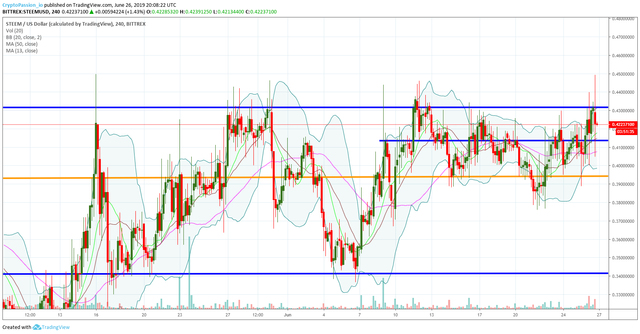 Here is the current chart :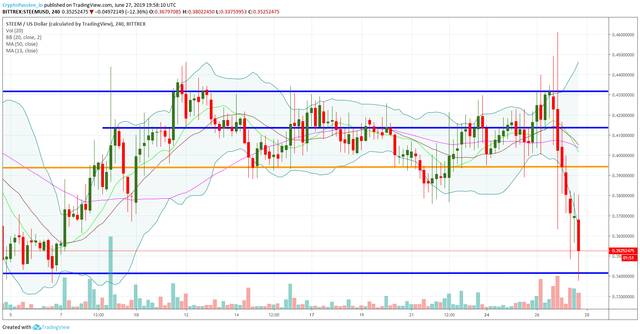 Yesterday I was saying that sentence :
" What else to say… imagine now that the BTC will correct, I'm quiet sure that we will break very easly all our support lines. "


Unfortunatly I was more that correct as we are breaking support lines after support lines on the STEEM. It is almost the case on every altcoins but again STEEM is one of the best in correction matter as we didn't do any up or almost any up during the BTC run but now we are even correcting more than the average of altcoins. What to say… let's wait better time and hope support line at 0.34$ will hold.
Last Updates
Join this new Free To Play on the STEEM Platform !