Facebook May Announce FB Coin Stablecoin in Q3, Say Anonymous Sources;
A New Crypto ETF Has Just Been Filed With the U.S. SEC ;
SEC Commissioner Hester Peirce Concerned Crypto Industry Hindered by Regulatory Delays;
All of It Dark, All of It P2P: After the Binance Hack, Bitcoin Doesn't Cut It
ConsenSys Announces Major Restructuring as Longtime Executive Kavita Gupta Steps Down ;
📑 Daily Crypto Calendar, May, 10th💰
STEEM Trading Update
Welcome to the Daily Crypto News: A complete Press Review, Coin Calendar and Trading Analysis. Enjoy!
Social networking giant Facebook is hiring PayPal staff ahead of its alleged cryptocurrency launch, Bloomberg reported on May 8.


Facebook, which has courted rumors over its planned entry into blockchain and payments for around a year, could launch its own token as soon as Q3 2019, anonymous sources told the publication.
The company began hiring for a dedicated blockchain team last year, under the auspices of David Marcus, himself a former president of PayPal.


Now, around 20% of the team's 50 members come from the payments platform, a situation reminiscent of the so-called "PayPal Mafia" executive group of the early 2000s.
A prospectus for a new cryptocurrency-based exchange-traded fund (ETF) has just been filed with the U.S. Securities and Exchange Commission (SEC).


The application, posted by the SEC on May 9, was created by Crescent Crypto Index Services LLC, a subsidiary of Crescent Crypto Asset Management LLC, to track the performance of a market capitalization-weighted portfolio of bitcoin (BTC) and ether (ETH).


Dubbed the USCF Crescent Crypto Index Fund (ticker symbol "XBET"), the ETF is sponsored by United States Commodity Funds LLC (USCF), which will invest XBET's assets in the two portfolio cryptocurrencies.
The prospectus states:


"XBET is an exchange traded fund. This means that most investors who decide to buy or sell shares of XBET place their trade orders through their brokers and may incur customary brokerage commissions and charges. Shares of XBET are expected to trade on the NYSE Arca under the ticker symbol "XBET" and will be bought and sold throughout the trading day at bid and ask prices like other publicly traded securities."



United States regulator and so-called "crypto mom" Hester Peirce gave remarks in which she expressed fears that the cryptocurrency industry has been hindered by the Securities and Exchange Commission (SEC) dragging its heels. Peirce spoke at the Securities Enforcement Forum in East Palo Alto, California on May 9.


In her speech, Peirce stated that, given the rapid development of the digital currency industry, she worried that the SEC's hesitance to provide clear guidance would hold back its growth.


The sticking point was, according to Peirce, how to decide when issuing tokens represented an offering of securities, especially considering that securities laws do not cease to apply just because there is a new evolution in the industry.
Binance, the biggest crypto exchange by volume, was hacked on Tuesday. The hacker took $40 million or 7000 BTC.


Binance had a chance to recover these funds. They could cut a deal with the majority hashpower miners. The miners would reverse the chain and gain a share of the stolen money.


Binance this time decided not to make the deal with miners. And as time goes on, the attack becomes harder. But all it took was a private phone call. The majority hashpower lies under control of a handful of men. They can collude and reverse the chain.
New York-based blockchain company ConsenSys is restructuring its various operations to shore up its market presence as it seeks $200 million in funding, a press release confirmed on May 6.


In a move which will also see the departure of a founding executive, ConsenSys will consolidate ConsenSys Labs, accelerator Tachyon and VC operation, ConsenSys Ventures, under one umbrella investment arm.


ConsenSys Ventures, which launched in September 2017, will no longer have Kavita Gupta at its helm, she confirmed to cryptocurrency news outlet The Block on Monday.
📑 Daily Crypto Calendar, May, 10th💰
Hubs hologram singing competition released for IOS and Android Mobile devices.
"2019 Harvard Blockchain Meetup Series #3 Creating Value: Blockchain Application and Real World Adoption."
"Less than a week until our Rocket League Tournament, which will be held on May 10th @ 7pm EST, and will also be streamed LIVE on Twitch."
AXpire burns 5% of their revenue from the license fees of their Resolvr software at the beginning of each month.
Weekly rewards for Cointorox community members holding over 200 OROX (5% rewards). Token rewards distributed from leftover bounty tokens.
STEEM Trading Update by my friend @cryptopassion
Here is the chart of yesterday :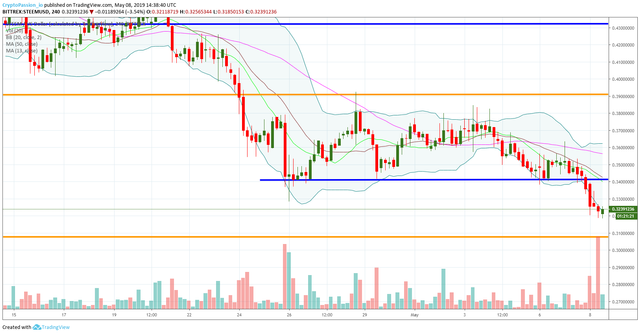 Here is the current chart :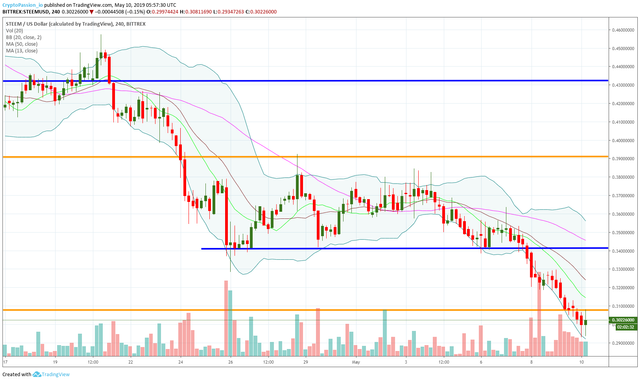 As I was saying you, after the break of the support line at 0.34$, the direction was directly 0.31$ but I was expecting that this line hold us. Apparently even this support won't survive as we already broken it. However, this support can still be save if we are able to go upper of this line in the coming hours. Let's hope because if the break is confirm, we will try to do for sure new lows on the STEEM…
Last Updates
Join this new Free To Play on the STEEM Platform !