Bitcoin Price Eyes Break Above $6,000 Ahead of New York Blockchain Week;
Bitcoin Miners Send Message at Fidelity: We Run on Clean Energy, Not Dirty Coal;
Alibaba's Ant Financial Backs $10 Million Round for Blockchain Privacy Startup;
Chinese Social Media Giant WeChat Bans Crypto Transactions in Its Payment Policy
ConsenSys Announces Major Restructuring as Longtime Executive Kavita Gupta Steps Down ;
📑 Daily Crypto Calendar, May, 7th💰
STEEM Trading Update
Welcome to the Daily Crypto News: A complete Press Review, Coin Calendar and Trading Analysis. Enjoy!
Bitcoin's quick recovery from levels below the former resistance-turned-support of $5,627 (April 23 high) seen on Monday, coupled with a break above the stiff resistance at $5,780 (June 2018 bottom) seen today, indicate fairly strong bullish sentiment.


BTC looks set to breach the psychological hurdle of $6,000, as suggested by April's bullish close, and may rise to $6,200 in the next few days. The bullish case is backed by a diamond breakout on the 4-hour chart.


Bulls still need to observe caution, as the 3-day chart shows a bearish divergence of trading volumes. A case for a deeper pullback to $5,000 would strengthen if the price falls below $5,686 (daily opening price) in the next 24 hours.

Bitcoin miners made the case for their industry as a driver of clean energy adoption, rather than the ecological disaster depicted by critics, at Fidelity's Mining Summit Friday.


The venue for the daylong event was as notable as the talks. The Fidelity Center for Applied Technology, an R&D division that has dabbled in bitcoin mining, hosted the conference at the financial services giant's global headquarters in Boston. Fidelity has embraced the crypto markets more than most incumbents; this year it launched Fidelity Digital Asset Services, which handles custody of bitcoin for institutional clients and is expected to roll out trading in the coming weeks.


But aside from welcoming the 300 or so attendees and a brief overview of mining history by Jurica Bulovic, innovation manager at Fidelity Labs (a different R&D unit), Fidelity mostly ceded the stage to guest speakers. In their presentations, these miners and others sought to disprove the popular perception that the copious amount of electricity devoted to securing the bitcoin network – 0.26% of world consumption, according to Digiconomist – is an environmental threat.



QEDIT, a developer of privacy technology for enterprise blockchains, has closed a $10 million Series A round from investors including Ant Financial, the payments affiliate of Chinese e-commerce giant Alibaba.


Ant Financial will also be incorporating QEDIT's zero-knowledge proof (ZKP) tech into its blockchain projects, the companies announced Tuesday. Other high-profile partnerships applying QEDIT's ZKPs include software giant VMWare and RGAX, a subsidiary of Reinsurance Group of America.


QEDIT's investment round was led by MizMaa Ventures, with participation from Ant Financial and RGAX as well as Meron Capital, Collider Ventures, Jovono and Target Global. QEDIT has received a total of $14 million in funding to date, comprising the A round, a previous $3 million seed round and $1 million in grants.
Chinese social media giant and payment service provider WeChat banned cryptocurrency transactions in its payments policy. Dovey Wan, founding partner of crypto investment firm Primitive, tweeted the news on May 7.
The tweet contained a screenshot of the policy changes, which intimates that users who engage in cryptocurrency trading will have their accounts terminated.


Wan expressed concern that since most over-the-counter transactions are happening in WeChat, "this may impact local liquidity to quite some extent." WeChat is a popular messaging and payments service provider in China, also featuring game integrations.
New York-based blockchain company ConsenSys is restructuring its various operations to shore up its market presence as it seeks $200 million in funding, a press release confirmed on May 6.


In a move which will also see the departure of a founding executive, ConsenSys will consolidate ConsenSys Labs, accelerator Tachyon and VC operation, ConsenSys Ventures, under one umbrella investment arm.


ConsenSys Ventures, which launched in September 2017, will no longer have Kavita Gupta at its helm, she confirmed to cryptocurrency news outlet The Block on Monday.
📑 Daily Crypto Calendar, May, 7th💰
2019 Global Roadmap
The network upgrade is set to happen at 915,000th block which is estimated to occur on May 7, 2019, at 00:42 UTC.
"One week later, on May 6, the migration will begin."
First wallet update including security updates and bug fixes.
"HavEther Project has decided to release our Whitepaper v2, so actually within one to two days we will release."
STEEM Trading Update by my friend @cryptopassion
Here is the chart of yesterday :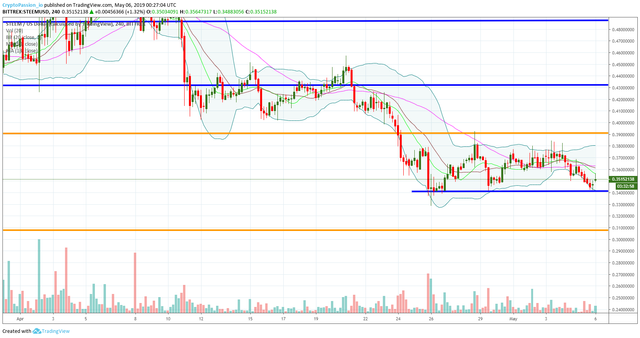 Here is the current chart :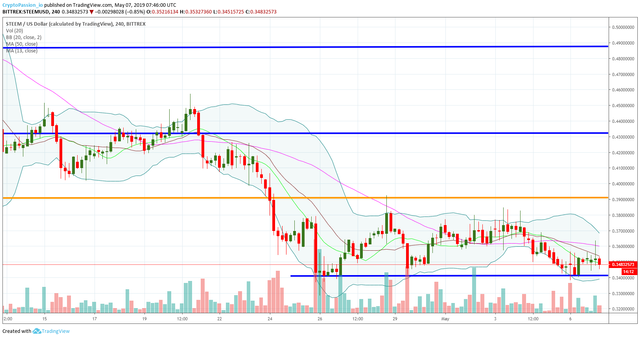 Again the BTC is doing a nice UP but the STEEM is staying sticked to its support zone around 0.3$ and is even trying to break it. Let's hope that this line will hold and will create a bounce because STEEM is really not funny to analyse these days and you need a good mood to stay optimist.
Last Updates
Join this new Free To Play on the STEEM Platform !