Bitcoin Price Indicator May Signal Next Leg Higher ;
Square's Cash App Is Testing a Stock Trading Feature ;
Will Blockchain Stop Personal Data Leaks? ;
US Treasury Sanctions North Korean Hacker Groups for Cyber Attacks ;
? Daily Crypto Calendar, September, 14th?
STEEM Trading Update
Welcome to the Daily Crypto News: A complete Press Review, Coin Calendar and Trading Analysis. Enjoy!
History looks to be repeating itself in the bitcoin market, as a key indicator's bullish turn could mark the beginning of the next meteoric price rally.


The world's most valuable cryptocurrency's price action seen over the last eight months is very similar to the moves seen in 2015, according to Bitstamp data. For instance, the bitcoin bear market ended near $3,100 in mid-December 2018 and prices built a base below $4,000 in the following three months before breaking into a bull market on April 2.


Notably, the bear market drop ran out of steam two months before the 50- and 10-week moving averages confirmed a bearish crossover (in February 2019).
Weekly chart
Square's cryptocurrency-friendly payment app Cash App is reportedly testing a new feature allowing customers to buy and sell stocks.


Expanding Cash App
Citing a source familiar with the matter, Bloomberg reported on Sept. 12 that the San Francisco-based startup's employees began testing the new feature in recent weeks. Once released, it will allow Cash App users to make free stock trades.
Square has reportedly not yet determined the exact date of the new option launch.
SteemMonsters reached 136,8k visits in July 2019!
N.B: My main sources of datas changed the way they calculated and estimated the datas. Therefore, this report might not be comparable to the previous one. Nevertheless they also adjusted all the past datas to make it comaprable.
I] Traffic
Daily SteemMonsters Traffic

SteemMonsters Daily Traffic kept on improving since the launch to reach close to 10k daily visits in August 2019.
My assumptions for August 2019
Total visits to SteemMonsters.com: 136.8k
Assumption of Total unique visitors in August: 15-20k
Total Daily visitors: 5-6k
Assumption of Total Daily Unique visitors: 2.5-3k
SteemMonsters Market Cap is Healthy and at an ALL TIME HIGH !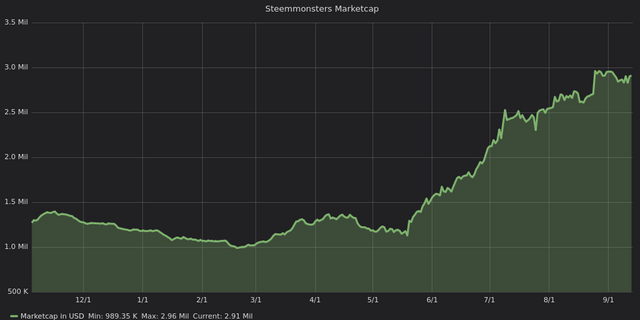 This is a collective achievement and I would like to congratulate all of us! We need to continue helping @yabapmatt to grow this platform
If you are one of the 2.4 billion active Facebook users, the probability that your data has been leaked is around 17%, given the recent news of 419 million accounts being exposed. This means that, unless something changes, every sixth active user could lose control over their personal data. Again and again, no matter the government or the company managing personal data or how secure their systems are, personal data leaks happen all the time. But what are the fundamental problems of centralization and how can we rescue our data from criminals, greedy marketers and corrupt governments?


Leaks are inevitable


The last two weeks have brought us tremendous news about leaks. The most recent concerning the aforementioned database of 419 million Facebook accounts was found available to download on the internet and complete with details such as names, phone numbers, gender and country of residence. A while ago, Mastercard officially reported about 90,000 exposed accounts to European Union authorities.

The United States Treasury Department announced further sanctions against three North Korean state-sponsored hacker groups, responsible for "North Korea's malicious cyber activity on critical infrastructure."

Continue to enforce existing U.S. and U.N. sanctions against North Korea


On Sept. 13, the U.S. Department of Treasury announced sanctions against North Korean hacking groups, more specifically the renowned Lazarus group, and two lesser-known entities, Bluenoroff and Andariel. Sigal Mandelker, Treasury Under Secretary for Terrorism and Financial Intelligence said:
"Treasury is taking action against North Korean hacking groups that have been perpetrating cyber attacks to support illicit weapon and missile programs. […] We will continue to enforce existing U.S. and UN sanctions against North Korea and work with the international community to improve cybersecurity of financial networks."
? Daily Crypto Calendar, September, 14th?
2019 Texas Blockchain Summit from 10 AM – 7 PM (CDT).
"Learn about PumaPay – Blockchain payment method and the potential of electronic payment in the economy 4.0"
"Presentation of the Development Strategy of EDC Blockchain and ECRO Place ▪️On September 14, 2019"
"Part of our Cryptour in Africa, we're coming to Accra
"#Aeternity Universe One #Haeckathon starts on Saturday and guess who will be mentoring the participants?"
STEEM Trading Update by my friend @cryptopassion
Here is the chart of yersterday :
Here is the current chart :
Today, we continued to test the support line around 0.154$ anf it starts to look good for buyers because sellers canot break this low. The market is becoming more and more nervous and we should have a major move in one of the direction soon.


If the BTC is not massively correcting, we could have a nice surprise on the STEEM because sellers start to have difficulties to continue their drop. In case of a correction on the BTC, we could break that support line but it will be the case of most altcoins.
Last Updates
Join this new Free To Play on the STEEM Platform !