Bitcoin's Record Hash Rate May Hint at Price Gains to Come ;
Bitcoin Addresses Worth $100,000 or More Hits All-Time-High ;
Binance Makes Strategic Investment in Chinese Crypto Media Firm ;
US Army Seeks Blockchain Experts Who Can Trace Bitcoin in Real-Time ;
? Daily Crypto Calendar, September, 17th?
STEEM Trading Update
Welcome to the Daily Crypto News: A complete Press Review, Coin Calendar and Trading Analysis. Enjoy!
View


With the hash rate or miner's confidence hitting record highs, bitcoin's three-day narrowing price range looks set to end with a bullish breakout.


A range breakout would open the doors to $10,956 – the bearish lower high created on Aug. 20.


A break below Friday's low of $10,154 would confirm a range breakdown and could yield a sell-off to $9,855 (Sept. 11 low).
As I wrote in previous blog posts, I reinvested in STEEM ahead and after the HFs.

After cruising, interacting and curating Steemians posts, I can say now I like the #newsteem better than the old one. This is a feeling but I believe people came back to the platform and interractions / payouts are less skewed thanks to some bots switching to curation and some whales "playing the game".

Below I am going to share with you some datas that I believe should make us optimistic about STEEM future.
As seen in @penguinpablo 's statistics (link here)
Accounts transacting are increasing steadily since last week to reach 39,647 on week 36 of 2019 (vs 34,958 the previous week)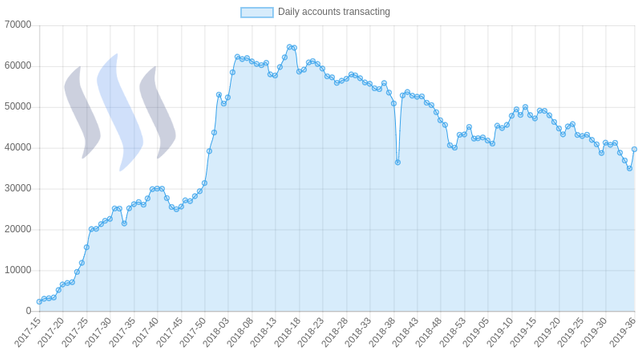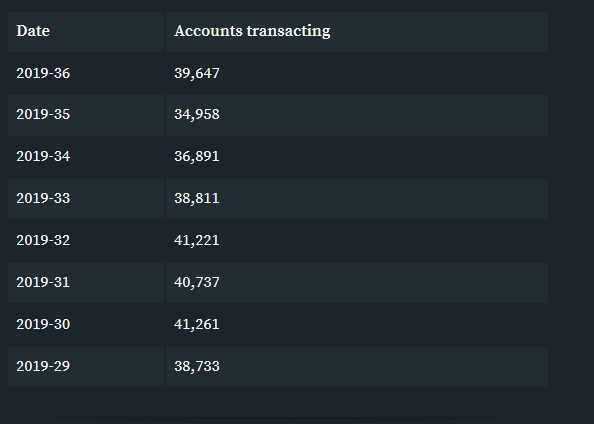 Click Here to see the Full posts and all the graphs
The number of Bitcoin (BTC) wallet addresses holding a minimum of 10 BTC — worth over $100,000 to press time —  has hit an all-time high, multiple data sources reveal.


According to BitInfoCharts' Bitcoin Rich List, as of Sept. 17, there are 157,210 addresses holding between 10 and 1,000,000 BTC. 


Earlier this month, Coin Metrics' State of the Network report had plotted the latest data historically to reveal that these mega-holders are at an all-time high for the network.
Cryptocurrency exchange Binance, the world's largest by trading volume, has made a strategic investment in Chinese media and data source Mars Finance.


According to a report from Bloomberg citing a press release, the investment amount was not disclosed, but values the company at $200 million.


Aside from Binance, which reportedly made its first strategic investment in China with the round, Beijing-based Mars Finance was also backed by Ceyuan Ventures and Matrixport, a financial services startup founded by co-founder of bitcoin mining firm Bitmain, Jihan Wu.incorrectly applied.
The United States Army Contracting Command (ACC) of New Jersey has issued a pre-solicitation notice for cryptocurrency investigation service providers. 


As a pre-solicitation, posted on July 25, the notice and the ACC's responses do not bind ACC to solicit or award a contract.


For use in criminal investigations


According to the ACC, the cryptocurrency analytics solution is being sought for use by the U.S. Army Criminal Investigation Command (USACIDC) for use in criminal investigations and other missions.


The notice outlines that the contractor must provide a cloud-based, online service — not reliant on hardware or software — that can assist law enforcement in identifying and pursuing actors using cryptocurrencies for illicit purposes such as fraud, extortion and money laundering.
? Daily Crypto Calendar, September, 17th?
Hard Fork
Shanghai International Blockchain Week from September 14 – 18.
"Join us for another Theta AMA on Tuesday, September 17th at 4pm PDT / 11pm UTC! The AMA will feature Theta's Head of Platform Tim Li…"
"We are looking forward to the upcoming meetup at Epitech in September."
"We are proud to announce that BiblePay will be listed on TOKOK on September 17th!"
STEEM Trading Update by my friend @cryptopassion
Here is the chart of yersterday :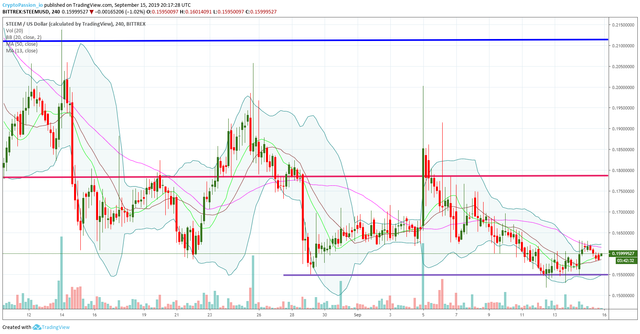 Here is the current chart :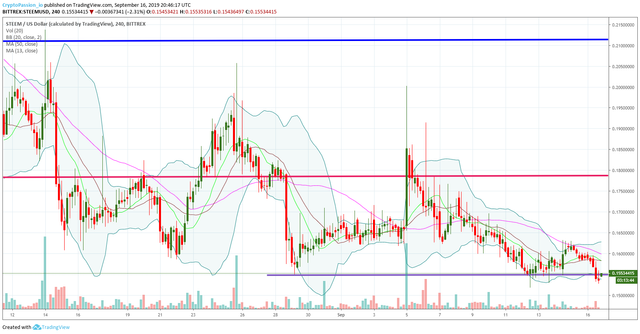 Today, we tested and broke the support line at 0.155$ during some hours but it looks like the market want come back upper than this line. We need to check now if this is not a pull back before the continuation of the drop or if that break was just a trap from the market to buy some steems at a very good prive. Let's see if the current candle will close upper or lower than the support line at 0.155$.
Last Updates
Join this new Free To Play on the STEEM Platform !