Welcome to the Daily Crypto News: A complete Press Review, Coin Calendar and Trading Analysis. Enjoy!
View

Bitcoin's violation of recent bearish lower highs with a move above $12,061 has opened the doors for a retest of $13,880.


Prices reinforced the bull breakout with a successful defense of the former resistance-turned-support of $12,061 soon before press time.


Bitcoin's dominance rate has spiked to 27-month highs, backing the uptrend in prices.


A high-volume UTC close below $12,000 would abort the bullish view.
The United States' Internal Revenue Service (IRS) is allegedly considering requiring tech giants to report on crypto activity by users, according to a presentation reportedly from an IRS presentation and provided by a Twitter user on July 9.


According to the documents shared, the IRS hopes to use Grand Jury subpoenas on firms such as Apple, Google and Microsoft to check taxpayers' download history for crypto-related applications.


Known as Crypto Tax Girl, Laura Walter, certified public accountant and crypto tax specialist, tweeted the presentation, which was allegedly for agents in the IRS's Criminal Investigation division.
Facebook blockchain lead David Marcus told U.S. lawmakers that the social media giant plagued by privacy scandals won't have access to personal financial information with its new cryptocurrency.


In a letter dated Monday to the Senate Banking Committee responding to pointed questions the lawmakers sent in May, Marcus took a diplomatic tone, acknowledging the panel's concerns about data privacy and telling them:


"I want to give you my personal assurance that we are committed to taking the time to do this right."


A similar letter was sent to the House Financial Services Committee, the Hill reported earlier Tuesday.
Bitcoin mining difficulty – a measure of how hard it is to compete for mining rewards on the world's first blockchain network – has posted its largest two-week increase in 12 months.


According to BTC.com data, mining difficulty reached 9.06 trillion (T) at block height 584,640 around 9:17 UTC on July 9, surpassing the previous record of 7.93 T by 14.23 percent. This was the strongest growth in any two-week period since August 2018 – a sign that competition among miners is not only intensifying but doing so at an accelerated rate.


The bitcoin network is designed to adjust its mining difficulty every 2,016 blocks (roughly 14 days) based on the participating mining power in each cycle, in order to ensure the block-producing time at the next period stays at about every 10 minutes.
Facebook Inc has no plans to offer its Calibra digital wallet services in its largest market, India, the social giant said, just as a top government official expressed skepticism about its newly-announced cryptocurrency Libra.

"There are no plans to offer Calibra in India," a Facebook spokesman said in an email, effectively ruling out the rollout of its Libra cryptocurrency in the country. "As you may know, there are local restrictions within India that made a launch of Calibra not possible at this time."

India's central bank, the Reserve Bank of India, has banned banks from dealing in cryptocurrencies but informal networks abound. In an effort to curb them, the government is proposing a law with stringent penalties, including prison sentences of up to 10 years. Subhash Garg, the country's economic affairs secretary, said in an interview to Bloomberg that India would not be comfortable with a private cryptocurrency.
? Daily Crypto Calendar, July, 10th?
The mainnet launch will be the kickoff for enterprises to provide their idle cloud resources in the Ankr application.
"In 104 hours $Waves blockchain is going to change forever! just 4 days. #dapps are coming home to #wavesplatform."
Zcoin releases version 13.8.1.
"On July 10, PundiX and Binance will have a meetup in Medellin Colombia "
"Interested in building on #EOSIO? Join us on July 10th from 8-10am (HKT) for a walkthrough of all you need to know about getting started."
STEEM Trading Update by my friend @cryptopassion
Here is the chart of yesterday :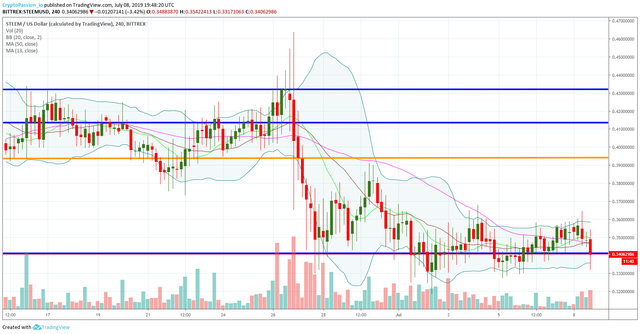 Here is the current chart :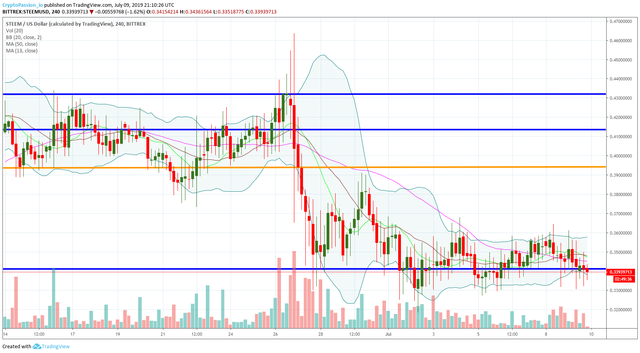 So most of the altcoins are still in depression mode and for sure it is also the case on the STEEM. Since yesterday, we are trying to break the support around 0.34$ but till now, we are lucky and that line is holding us. For how many times, I really don't know but let's at least enjoy that little positive news.
Last Updates
Play on a fair STEEM CryptoGaming website !
Join this new Free To Play on the STEEM Platform !