Facebook to Roll Out 'GlobalCoin' Cryptocurrency in 2020, Report Says ;
US Telecoms Giant AT&T Now Accepting Crypto Payments via BitPay ;
Russian Central Bank to Consider Gold-Backed Cryptocurrency ;
Supreme Court Advocate Suggests How to Regulate Cryptocurrency in India ;
Ethereum Investment Vehicle Approved for Small Investors ;
📑 Daily Crypto Calendar, May, 24th💰
STEEM Trading Update
Welcome to the Daily Crypto News: A complete Press Review, Coin Calendar and Trading Analysis. Enjoy!
Social media giant Facebook is set to roll out its own cryptocurrency dubbed "GlobalCoin" in 2020, according to a report from BBC.


The news outlet said on Friday that Facebook is planning to launch the cryptocurrency-based payments system in "a dozen countries" by the first quarter of 2020 and is looking to start trialing it by the end of this year.


More details about Facebook's crypto plan are said to be revealed in the coming months, the report said. It further added Facebook had looked for advice from officials of the U.S. Treasury and the Bank of England governor Mark Carney regarding opportunities and regulatory issues for the initiative, which is internally referred to as "Project Libra."
United States telecom and media giant AT&T now accepting cryptocurrency for paying phone bills online, according to an official press release on May 23. AT&T will process bills paid in cryptocurrency using crypto payments platform BitPay.


BitPay is a platform that converts cryptocurrencies to fiat and is used by over 20,000 businesses. AT&T is reportedly the first United States-based business in the wireless network industry to offer bill payments with BitPay.
Kevin McDorman, vice president of AT&T Communications Finance Business Operations, said, "We have customers who use cryptocurrency, and we are happy we can offer them a way to pay their bills with the method they prefer.".



Russia's central bank will consider the use of a gold-backed cryptocurrency to facilitate international settlements, according to a Tass report.


Elvira Nabiullina, governor of the Bank of Russia, said Thursday that her institution is to review a proposal for the development of the cryptocurrency.


Nabiullina said at the nation's lower house, or Duma:
"As for mutual settlements, we will consider, of course, [the] proposal on … a gold-backed cryptocurrency. But, in my opinion, it is more important to develop settlements in national currencies," she said at the State Duma.
An Indian supreme court advocate has shared some thoughts on the kind of cryptocurrency regulation India can benefit from. The right regulatory framework "would ensure transparency, oversight and accountability," but a "one size fits all" regulation would be a mistake, she explains. Meanwhile, the Indian crypto community and industry bodies have urged the central bank to allow crypto businesses to participate in its new regulatory sandbox.

"Regulation would ensure transparency, oversight and accountability. The onus or burden on the government may be shifted to exchanges or other platforms offering virtual currencies or trading thereon."
Individual investors will soon be able to invest in Grayscale Ethereum Trust, billed as "the first U.S. publicly quoted security solely invested in and deriving value from the price of ethereum."


The Financial Industry Regulatory Authority (FINRA), Wall Street's self-regulatory organization (SRO), has approved public quotation of shares in the trust, Grayscale Investments announced Thursday.


"All kinds of investors will be able to gain exposure to the price movement of ethereum without the challenges of buying, storing, and safekeeping ethereum," wrote Marissa Arnold, a spokesperson for Grayscale, in an email to CoinDesk.
📑 Daily Crypto Calendar, May, 24th💰
"Please tune in tomorrow at 9-10AM PST for our AMA with @binance!"
Veros roadmap will update on May 24, 2019.
The next SmartCash community meetup will be this Friday at 18:00 in Kaliningrad.
Announcement on the upcoming FT public chain & ecological strategy presentation and community congress for the first anniversary of FCoin.
"Rebranding and Hardfork will be estimated approximately at 19.00 UTC on Friday May 24."
STEEM Trading Update by my friend @cryptopassion
Here is the chart of yesterday :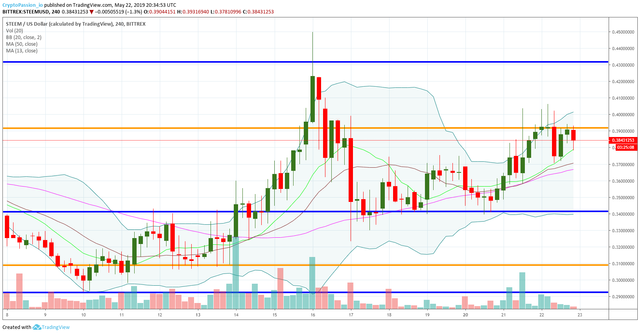 Here is the current chart :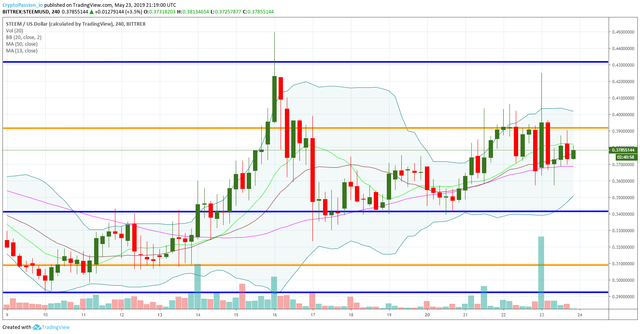 We are still under the resistance line around 0.39$. We tested it several times these last day but till now, we are not able to break it more than some minutes. We could finish to have a correction to go test the support line at 0.33$ but I still have the hope that the BTC will continue its UP and that we could finish to break that resistance on the STEEM with that help. Let's see what will do the BTC in the coming hours.
Last Updates
Join this new Free To Play on the STEEM Platform !