Welcome to the Daily Crypto News: A complete Press Review, Coin Calendar and Trading Analysis. Enjoy!
Bitcoin (BTC) has gained legal recognition by a second Chinese court in a further boost for the cryptocurrency in one of its harshest environments.


A watershed for Bitcoin in China


According to investor Dovey Wan, who linked to local media coverage, the Hangzhou Internet Court formally described Bitcoin as virtual property on July 18. 


The second such court to attribute property status to Bitcoin, the ruling came about as part of a dispute between a now-defunct exchange and one of its users who lost funds. 


For Wan, the case marks a significant watershed for Bitcoin in China, where a blanket ban on trading it has been in place since September 2017. 
In about five hours, the privacy-oriented cryptocurrency Zcash will spawn a new blockchain network called Ycash.


It'll be the first of its kind to boast a near-identical codebase to the Zcash blockchain but function as a separate network and de facto competitor.


First announced in April, the effort is spearheaded by long-time Zcash supporter Howard Loo. Loo described in a Zcash forum post that Ycash was a preemptive move to resist future community decisions that may extend Zcash's system of developer funding known as the "Founder's Reward" beyond a promised 10 percent cap of total token supply.
Bitcoin surged $1,000 in just 30 minutes during U.S. trading hours Thursday, a move that found the leading cryptocurrency rising from $9,335 to a high of $10,400, based on Bitstamp data.


The sudden rally could be associated with the massive unwinding of short BTC/USD positions (profit taking) seen in 30 minutes to 15:00 UTC, as reported by bot powered twitter handle @WhaleCalls.


Prices had dropped to a low of $9,280 at 14:00 UTC, having repeatedly failed to beat the psychological resistance of $10,000 in the Asian session and during early European trading hours. But, bitcoin's price rise is now boding well for the broader market.


Names like litecoin and bitcoin SV are reporting double-digit gains at press time. Meanwhile, ethereum's ETH token and XRP are up 6 percent and 3 percent, respectively.
Jamie Dimon, CEO of global financial services firm JPMorgan Chase, argued that Facebook's cryptocurrency project Libra does not pose a threat in the foreseeable future.


As reported by CNBC, Dimon delivered his comments during a conference call with analysts on Tuesday, July 16. Dimon said that he would not spend too much time on Libra, specifying that "to put it in perspective, we have been talking about blockchain for seven years and very little has happened. We are going to be talking about Libra three years from now."


Dimon continued saying that any new effort will have to comply with the industry's Anti-Money Laundering provisions.

Dimon said:

Steve Wozniak, co-founder of American tech giant Apple, has invested in a new blockchain-based company headquartered in Malta. Wozniak is now the co-founder of energy efficiency company Efforce, according to a report by Maltese news daily The Malta Independent on July 18.


Wozniak co-founded the company alongside Jacopo Visetti, who — according to his LinkedIn profile — works in the renewable energy and environment sector. According to this page, Visetti co-founded Efforce in January, 2018 — approximately one year and seven months ago. 


According Efforce's LinkedIn page, the company provides the first blockchain-based platform focused on investing in energy efficiency, with its stated goal "to be recognized as the first and main platform in the world for tokenized energy savings."
? Daily Crypto Calendar, July, 19th?
Odocrypt algo will be activated at the block 9.100.000.
"The Q&A with Waves CEO @sasha35625 has been rescheduled! The session will start on Friday, July 19 at 3:00 PM (UTC)."
"A premier gathering of the best creators, innovators, and industry experts in the decentralized space."
"We are happy to announce the official release date of internal exchange service on the 19th of July."
Binance DEX lists HYN/BNB trding pair. Trading begins at 16:00 (GMT+8).
STEEM Trading Update by my friend @cryptopassion
Here is the chart of yesterday :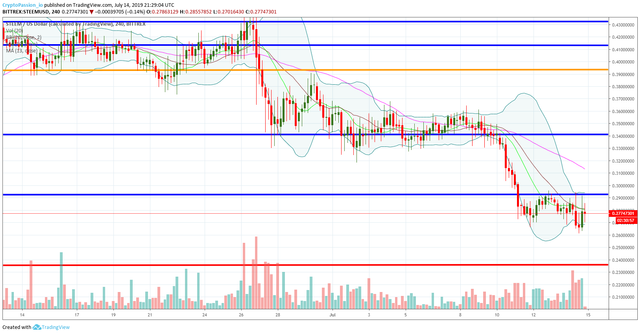 Here is the current chart :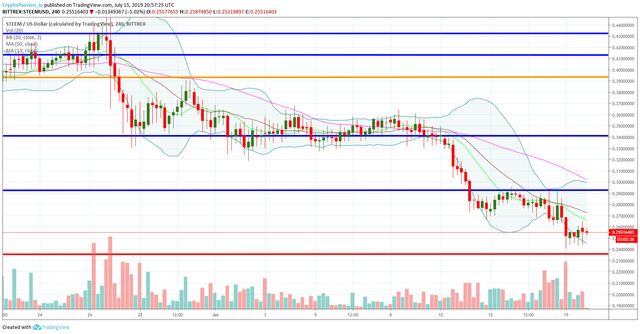 We are currently consolidating just upper the major resistance line at 0.24$ while the BTC is having a very nice bounce. It is becoming hard for all the altcoins and STEEM is not better than other and is sometimes even worst. What to say, we have to wait for better days, the market doesn't really care currently for the altcoin market and I really don't know how many time it will last like that. Courage and perhaps focus on the BTC if you want do short term trades.
Last Updates
Play on a fair STEEM CryptoGaming website !
Join this new Free To Play on the STEEM Platform !