Welcome to the Daily Crypto News: A complete Press Review, Coin Calendar and Trading Analysis. Enjoy!
Marubeni Corp., a major Japanese sōgō shōsha, or general trading company, is now backing a blockchain-based power trading platform.


Per a report by Reuters on July 23, Marubeni  has issued a loan to Lithuania-based blockchain project WePower. Per Reuters, the size of Marubeni's stake in WePower after converting the loan is yet to be determined.


WePower has reportedly developed a platform which allows small- and medium-sized enterprises to more easily buy power specifically from wind- and solar-based sources via standardized digital power purchase agreements.


The platform aims to unlock tens of billions of dollars in power generation to smaller projects in the Australian electricity market which, according to Reuters, is running out of major power consumers that will buy large quantities over long periods of time. 
The New York Times Company has revealed new details relating to its ongoing blockchain publishing experiments first revealed by CoinDesk in March.


Published Tuesday, a new website for the publisher's News Provenance Project explains how the storied newspaper's Research and Development team plans to use Hyperledger Fabric's permissioned blockchain to authenticate news photographs in partnership with IBM Garage, the tech giant's accelerator program.


The project aims to combat misinformation and adulterated media, which it argues harms small and large publishers alike. "News consumers [who] are deceived and confused…eventually become fatigued and apathetic to news," the website says.
The Senate Banking Committee will hold a hearing on regulatory frameworks for cryptocurrencies and blockchain next week.


The committee said in a press release that it would hold an open session titled "Examining Regulatory Frameworks for Digital Currencies and Blockchain" on July 30, though it is unclear if this would be a fact-finding mission or if any specific pieces of legislation would be discussed.


Circle CEO Jeremy Allaire, representing the Blockchain Association; Rebecca Nelson, a member of the Congressional Research Service specializing in international trade and finance; and Mehrsa Baradaran, a law professor at the University of California Irvine School of Law will testify as expert witnesses.
Blockchain technology offers an opportunity for smaller banks in the Philippines to boost lending and offer other financial services in rural areas, according to Union Bank of the Philippines Chairman Justo Ortiz.

Union Bank is experimenting with the use of blockchain for remittances, allowing overseas Filipino workers to send money home quickly and efficiently and exercise greater control over who receives the funds and how they're used, Ortiz said in an interview with Bloomberg Television on Tuesday.

By plugging the 500 or so Philippine rural banks into the system, the lenders would get detailed information on the income individuals or families receive from remittances, he said. That would give them greater comfort to offer loans and other banking services to people who often fall outside the formal financial system, he added.
If, as the saying goes, any publicity is good publicity, then Tuesday was a great day for Tron CEO Justin Sun.


The 28-year-old entrepreneur has been the talk of the crypto community for the last 24 hours, starting with Monday night's announcement that a bout of kidney stones led him to postpone a long-awaited lunch with finance titan Warren Buffett.


Then came reports suggesting that the rescheduling was due to legal rather than medical problems. For a few hours, seemingly everyone on crypto Twitter believed Sun was in China, barred from leaving by the government amid accusations of lawbreaking.
? Daily Crypto Calendar, July, 24th?
Constantinople Activation with EIP 145 , EIP 1052 , EIP 1283 and EIP 1014 integration at block 3,100,000 , which is expected around Jul 24.
"A partnership that will greatly impact the future of Electra. This will be a true milestone."
"The first upgrade, code named 'Quasar', is proposed for Jul 24th 2019 and is primarily focused on scaling."
"On the evening of July 24 a Cardano community meetup will be hosted in Singapore."
"If you're keen to learn programming on the #Waves blockchain, join us for the 'Full-Cycle dApp Development' workshop…"
STEEM Trading Update by my friend @cryptopassion
Here is the chart of yersterday :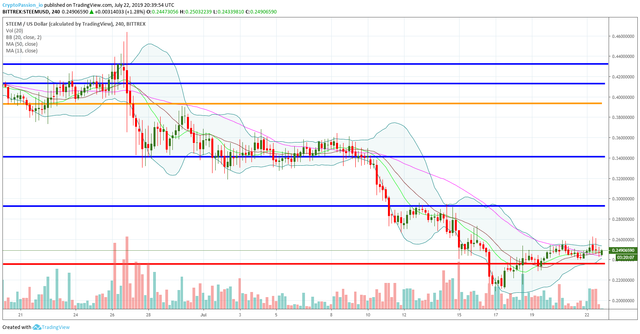 Here is the current chart :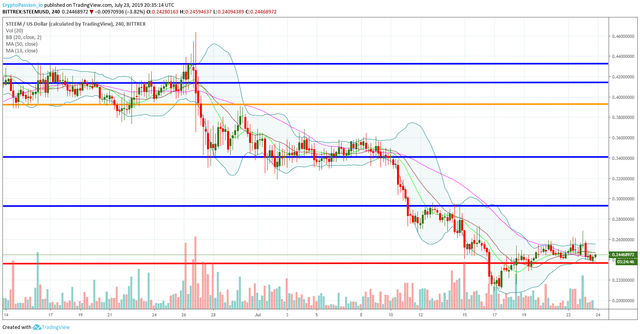 The support line at 0.24$ has been tested but not broken. Like the BTC, we are having a little bounce on that support line but nothing really powerfull. A little correction on the BTC will make us break that support line quiet easly so yeah we are becoming very passive on the STEEM, just waiting for the BTC direction and doing corrections more powerfully than the BTC when it is the case.
Last Updates
Join this new Free To Play on the STEEM Platform !