Welcome to the Daily Crypto News: A complete Press Review, Coin Calendar and Trading Analysis. Enjoy!
"History doesn't repeat itself, but it often rhymes"


This quote is often attributed to Mark Twain. And while Bitfinex doesn't exactly rhyme with Mt. Gox, there are several parallels in the stories of these two exchanges. People interested in understanding Bitfinex are well-served to understand what happened with Mt. Gox.


Bitfinex and Tether were investigated by the New York York Attorney General (NYAG). Here's a synopsis for those unfamiliar with the story. Bitfinex is a cryptocurrency exchange, the owners of which also control Tether, issuer of the most popular stablecoin, known as tether or USDT. The NYAG accuses Bitfinex of losing over $800 million. It alleges the exchange tried to recoup those losses by dipping into the cash reserves of tether, the stablecoin its principals also control.



Indeed, those feelings would be quite valid. In the early days of crypto, one of the largest bitcoin exchanges, known as Mt. Gox, also got into significant trouble due primarily to its banking relationships. It got so bad that in February of 2014, Mt. Gox stopped all trading and filed for bankruptcy protection. At the time, it claimed to have lost 624,408 BTC.
Galaxy Digital Holdings, the crypto merchant bank founded by former hedge fund manager Michael Novogratz, lost $97 million in the fourth quarter, according to financials disclosed Monday.


The net loss widened from $76.7 million in the third quarter and from about $100,000 a year earlier, according to the filing with Canadian securities regulators. (Last February, New York-based Galaxy bought a Canadian publicly traded company in a reverse takeover.)


For all of 2018, its first full year of operation, the company lost $272.7 million.



A new proposal by Vitalik Buterin, the creator of ethereum, suggests he is considering increasing rewards for validators who would secure the operation of the next version of the world's second-largest blockchain.


Ethereum 2.0 is by far the biggest upgrade on the horizon for the ethereum blockchain, today valued at $17.5 billion. Its broader goal is to erase ongoing bottlenecks to transaction throughput and significantly decrease costs on the network.


Rather than relying on a proof-of-work consensus protocol whereby miners compete to bundle together blocks of transactions and add them to the ever-growing chain, ethereum 2.0 will rely on a proof-of-stake consensus protocol whereby validators stake their own funds and attest to blocks and transactions being created on the network.
Fundstrat Global Advisors founder Tom Lee has predicted that cryptocurrency prices will hit new historic highs by 2020. Lee delivered his comments during an interview with CNBC on April 28.


In the interview, Lee forecasted that bitcoin (BTC) has not completed its upward movement and will likely reach new all-time highs around 2020 based on "11 signs that historically only take place in a bull market." Lee thusly reiterated his previous prognosis made earlier this month, when he said that "a bull market is likely starting."


Lee explained that three out of those 11 signs — blockchain, technical indicators and trading volumes — indicate that the crypto winter has seen its end. In January, Lee's team observed that trading volumes on the blockchain turned positive at an annual rate, while the second sign popped up in April, when BTC closed above its 200-day moving average.

Intercontinental Exchange (ICE)-lead institutional cryptocurrency trading platform Bakkt has аcquired a crypto custodian service, the firm announced on April 29.


In a blog post, Bakkt announced a number of new measures in its apparent effort to stimulate regulatory feedback, including the acquisition of Digital Asset Custody Company (DACC).


While DACC's native support of 13 blockchains and 100+ assets is designed to "serve as an important accelerator," the entire DACC team will also be joining Bakkt, as former Coinbase exec and new Bakkt COO Adam White wrote in the blog post on Monday.
📑 Daily Crypto Calendar, April, 30th💰
QSP audit network launch, as described in the whitepaper.
The QuarkChain Mainnet Singularity V1.0 launches at 08:00 (UTC).
"To secure the success of the token swap (scheduled to start in late April)…."
Release of main net, native tokens to be issued according to NEP5 ownership.


Stake your SOUL coins to receive KCAL tokens (Energy) daily.
The public testnet introduces a broader access test-network complete with improved Open Economic Framework.
STEEM Trading Update by my friend @cryptopassion
Here is the chart of yesterday :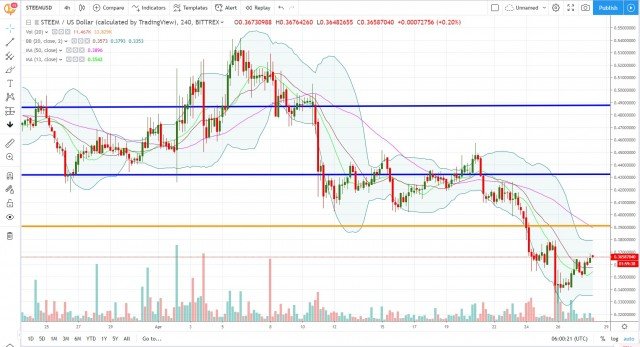 Here is the current chart :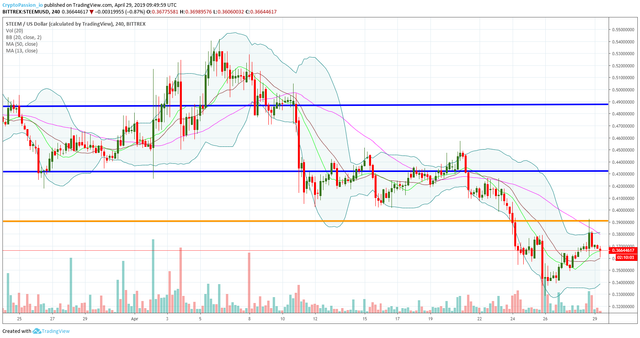 As suggested in my previous publication, my scenario was a test of the resistance line at 0.39$ and this has been done today but unfortunatly, we didn't break that line and so we are dropping again. Howerver, the drop till now is not so powerfull so it let us a luck to be able to try to break again the resistance line. Let's see what will happen in the coming hours.
Last Updates
Join this new Free To Play on the STEEM Platform !