Welcome to the Daily Crypto News: A complete Press Review, Coin Calendar and Trading Analysis. Enjoy!
As Bitcoin dropped an additional 8% on Saturday, naysayers claim the rally to a new all-time high is over. So what is it that's keeping market analysts bullish in the face of a 33 percent correction? 


Bitcoin price bears draw a line at $10,000


Bitcoin's most recent price action has been less than satisfactory, unless you're a bear. To date, the top digital asset is down 32% from it's 2019 high of $13,739 and short term price action remains overwhelmingly bearish.  

Over the past two weeks Bitcoin formed an M-top at $13,739 and $13,177 before dropping to the neckline around $9,600. Most traders expect that Bitcoin will retrace to the 61.8% and 50% Fibonacci Retracement level which is also near the CME futures gap. It's possible that the group think surrounding the CME gap is causing it to function as a magnet, drawing BTC price nearer to the $8,500 – $7,500 range. 
Dormant Bitcoin wallet address hit new all-time high
Earlier this week Coin Metrics released a report showing Bitcoin's untouched supply reaching a new all-time high of 21%. 

Not everyone supports this conclusion, however. Adamant Capital founding partner Tuur Demeester countered saying that: 
"I'm not so sure […] 5 years without updating your cold storage method is a long time in Bitcoin. Imo most of these coins are likely lost."
Start of new bull markets coincides with miner capitulation, data shows
On Saturday expert crypto-analyst PlanB tweeted a rather intriguing chart that he and ParabolicTrav worked on.
According to the analysts, after a BTC/USD rally reaches its peak, a massive amount of Bitcoin is available at lower prices. The start of new Bitcoin bull markets have coincided with miner capitulation and Bitcoin price tends to rise from these bottoms to grow 100 times. 

According to PlanB:

"We saw difficulty bottoms (miner capitulation) in Dec 2011 ($4.6), May 2015 ($230) and Dec 2018 ($3,896). Price continues to rise from these bottoms until ATH around 100x […] Implying a continuing uptrend until $370,000 ATH."
In last week's column — my third on Libra — I referred to a core dilemma confronting the cryptocurrency project's financial inclusion goals: the impossibility of being both pro-privacy and pro-KYC.


I promise a break this week from Libra and its controversial founder, Facebook. But I want to dive deeper into that dilemma because the problem is hardly unique to that project. As "know-your-customer" rules have steadily encroached into their world, all cryptocurrency startups trying to expand financial access for the poor are hamstrung by requirements to identify and track the people they seek to serve.


This contradiction stems from tough policies contained under Anti-Money Laundering and Combating the Financing of Terrorism rules (AML-CFT), which were tightened worldwide after the September 11 attacks in 2001 and then again after the financial crisis. Since virtually every bank needs access to dollars, KYC rules everywhere tend to follow models laid down in the U.S. Bank Secrecy Act and in guidelines of the U.S. Financial Crimes Enforcement Network, or FinCEN.

Further internationalizing pressure comes from the inter-governmental Financial Action Task Force, or FATF, which sets the regulatory standards by which countries pressure each other to comply.
"It's not a surprise to me that inevitably corporations are going after creating their own tokens but for Facebook to be one of the first big ones is is pretty much a surprise," said Lukka CEO Jake Benson told us when news of Libra began to spread. The world shared his surprise when Facebook unveiled its wild cryptocurrency dreams last month. But that surprise quickly turned into concern and condemnation as politicians started thinking about what it meant for a company to run its own mint.


Facebook's reaction to the hearings was also surprising. The usually-reticent social media giant sent their best fighter – Libra co-creator David Marcus – into the ring to defend the currency and the battle raged for two days as the U.S. Congress and Senate took turns bringing up their concerns.


The result? A stalemate… for now. token transactions.
Initial coin offering (ICO) consultant CoinLaunch has agreed to pay $50,000 to the Ontario Securities Commission (OSC), according to documents published on the regulator's website dated July 24.


According to commercial litigator and former programmer Evan Thomas, CoinLaunch was consulted on two ICOs, BCZERO (raising funds for a Czech off-road truck racing team) and ECOREAL (raising funds for a Portuguese resort), both of which were found to be securities. CoinLaunch reportedly created the tokens, white papers and websites, advised on the sale structure and made introductions, including to crypto exchanges for listings.


According to Thomas, the OSC found that the service was an act in furtherance of the trade of the security tokens since it was instrumental to the solicitation of investors. The consultant agreed to pay a $50,000 fine under a settlement.
The hedge fund of famous investor Bill Miller saw 46% growth in the first half of 2019, reportedly in some part from investing in Bitcoin (BTC).


Citing an investor document, Bloomberg reports on July 26 that Miller achieved such outstanding results by investing in Bitcoin among other high-performing stocks. Alongside Bitcoin, other investments in the Miller's fund reportedly include Amazon, security system firm ADT, as well as Avon Products.


The 69 year-old investor reportedly found success by following a similar investment strategy as he used during his three-decade run at Legg Mason, which envisions investing in securities that trade at a large discount to their intrinsic value.
? Daily Crypto Calendar, July, 29th?
LBank will open a SKY/SCH (Coin Hours) trading pair.
We're going to launch Vexanium Whitepaper 2.0 on 29th July 2019.
"IOHK will be restarting the Cardano Byron testnet with a fresh genesis block and new network magic on 29 July."
Conceal.Network (CCX) is going to be listed on Citex.
"Cast your vote at 0x.org/vote to add support for ERC-1155 and the StaticCallAssetProxy!"
STEEM Trading Update by my friend @cryptopassion
Here is the chart of yersterday :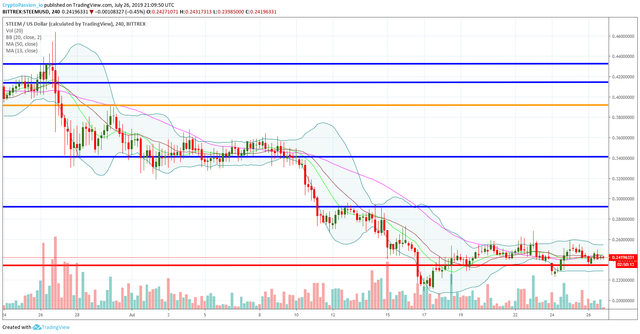 Here is the current chart :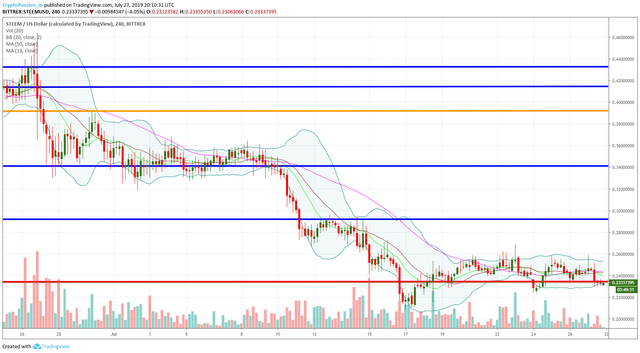 The STEEM is still sitting on the support line at 0.24$, waiting for the next move from the BTC. I'm really afraid that the BTC will continue it's correction so yeah, I'm little bit pessimist about that support line at 0.24$. However, I really wish that I'm wrong and that this support line will keep us upper but be very carefull in the coming hours.
Last Updates
Join this new Free To Play on the STEEM Platform !