Welcome to the Daily Crypto News: A complete Press Review, Coin Calendar and Trading Analysis. Enjoy!
Bitcoin price (BTC) felt more bullish than ever June 9 after another 24 hours of upside propelled markets close to $13,000.
Data from Coin360 painted a rosy picture for cryptocurrency traders, with bitcoin still leading the way in terms of daily gains. 

At press time, BTC/USD was up 11% versus Monday on $12,666. The pair had reached as high as $12,707 before a slight pullback below the $12,700 barrier. 
In 2015, the Ethereum public mainnet launched, followed by a raft of private blockchain offerings targeting the enterprise. This opened the floodgates on companies prioritizing collaboration, funding long-overdue digitization efforts, and extending business processes across corporate borders.


Today, a new epoch of system integration is underway. However, efforts to make blockchain technology enterprise-friendly split the community into two camps: public networks versus private networks. The dichotomy was wrong-headed from the start, making it easy to believe that public blockchain networks shouldn't be used in confidential business operations and that private networks were safe and secure.


The first belief is wrong, and the second is dangerous.
The New York Attorney General's Office (NYAG) has submitted new evidence in its aim to prove that crypto exchange Bitfinex and Tether had served New York customers longer than they claimed.


As part of the NYAG's ongoing investigation into Bitfinex and Tether, the NYAG filed a Memorandum of Law in Opposition, an affirmation, as well as a total of 28 pieces of exhibits on July 8, with the New York Supreme Court.


The NYAG said in the new documents:
"Even a cursory examination of the facts gathered to date in the OAG' s investigation shows that Respondents have extensive and consistent contacts to New York concerning the matters under investigation."
SThe United States Securities and Exchange Commission (SEC) and the Financial Industry Regulatory Authority (FINRA) outlined regulatory compliance issues for cryptocurrency custodians in an announcement on July 8.


According to the joint statement, the organizations have yet to discover a set of circumstances in which a crypto custodian could comply with the SEC's Customer Protection Rule, which is described as follows:


"Put simply, the Customer Protection Rule requires broker-dealers to safeguard customer assets and to keep customer assets separate from the firm's assets, thus increasing the likelihood that customers' securities and cash can be returned to them in the event of the broker-dealer's failure."
The Internal Revenue Service is expected to update its 2014 guidance on cryptocurrencies in coming weeks, following an April request from a bipartisan group of 20 lawmakers. It is part of a broader push to boost the nascent cryptocurrency industry. Congress is considering at least three bills that would resolve some of the murky legal issues surrounding digital money.
? Daily Crypto Calendar, July, 9th?
"Stay tuned because we have a great announcement for you on July 9th!"
"#BountyProgram starting on 9th July"
Voyager and Ethos YouTube livestream community Q&A at 3 PM (EST).
Dapp competition submit your ideas by 9th of July.
"Chainlink Integration Engineer Thomas Hodges is leading a meetup in Plano, TX next Tue July 9th."
STEEM Trading Update by my friend @cryptopassion
Here is the chart of yesterday :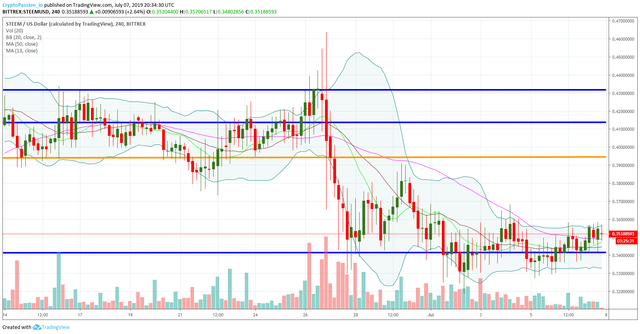 Here is the current chart :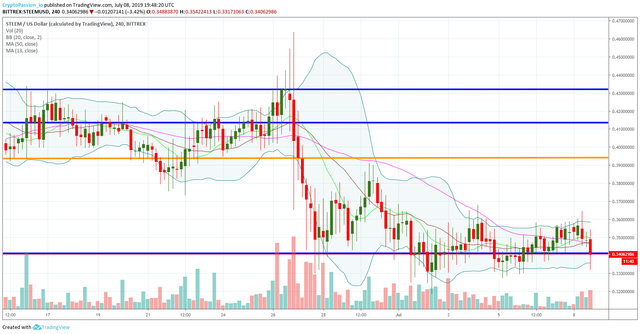 The market is currently trying to break the support line at 0.34$… It is quiet sad because when BTC is doing nice UP, STEEM is dropping and when BTC is doing a correction, STEEM is droping also… To resume it, we are not able anymore to add value to our blockchain….


I start to be really worry for our little coin because if all of that continue, yeah we will finish to be outside of the Top100, we will have less volume, less investors and all that, whatever the improvements that we will have…
Last Updates
Play on a fair STEEM CryptoGaming website !
Join this new Free To Play on the STEEM Platform !