Welcome to the Daily Crypto News: A complete Press Review, Coin Calendar and Trading Analysis. Enjoy!
Latin American social networking giant Taringa! has partnered with MakerDAO and e-wallet provider Airtm to launch a stablecoin-powered points system for its 27 million strong user base. 


According to an official Taringa! news release published on July 7, the development was revealed on Friday during the Blockchain Summit Latam in Mexico City.  


The pilot program, dubbed "Taringa! Pioneers," will reportedly reward users with points for creating popular platform content, which can then be monetized by being converted into MakerDAO's Ethereum blockchain-based stablecoin DAI. 
Coming from an organization so tied to the question of identity (whether real or not), it is surprising that Facebook's Libra coin seems confused about its own.


The organization has chosen to brand Libra "a stable global cryptocurrency," and the label "cryptocurrency" has been replicated by media around the world. Yet Libra is not a cryptocurrency.


Don't get me wrong – those of us in the sector appreciate the global attention given to the concept since the announcement.
But in this case the definition matters beyond semantics: it will affect eventual use cases and regulatory treatment. It could also transform how investors view both stablecoins and blockchain-based securities going forward.


What's in a name?
First, let's look at why it's not a cryptocurrency.
The Takeaway


High-frequency trading (HFT), a longtime and controversial practice in traditional markets, is becoming commonplace in crypto, too.


Placing trading servers physically close to exchanges' matching engines can win an edge on speed. This helps HFT firms make large profits in the legacy markets.


Crypto exchanges such as ErisX, Huobi and Gemini are trying to attract large algorithmic traders with colocation offers.
Demand for the service is high, but its benefits are a matter of debate, due to the structure of the crypto market.
Singapore plans to exempt cryptocurrencies that are intended to function as a medium of exchange from Goods and Services Tax (GST) — the local equivalent of Value-Added Tax (VAT).


The news was revealed in a draft e-tax guide published by the Inland Revenue Authority of Singapore (IRAS) on July 5.


The proposed exemption, if accepted, is set to take effect on January 1, 2020, and will overhaul the current system wherein the supply of digital payment tokens is treated as a taxable supply of services. 
European Central Bank executive board member Benoit Coeure said that financial regulators must act fast to prepare for Facebook's Libra stablecoin, Bloomberg reports on July 7.


Per Bloomberg, Coeure argued on Sunday in Aix-en-Provence in southern France that allowing for the development of new financial services and asset classes in a regulatory void is irresponsible. He concluded:


"We [financial regulators] have to move more quickly than we've been able to do up until now."


According to Coeure, the development of digital assets has exposed gaps in current financial regulations, and underlines banks' slow rate of adoption of new technologies:


"All these projects are a rather useful wake-up call for regulators and public authorities, as they encourage us to raise a number of questions and might make us improve the way we do things."
? Daily Crypto Calendar, July, 9th?
"The world's first Generalized State Channel Network is scheduled to go live on July 8th!"
"NULS will release the core chain-creation product ChainBox on 8th July(GMT+8), thereafter, begin NULS 2.0 public beta."
FintruX globally launches the TruX platform at RISE 2019 in Hong Kong, which is scheduled from July 8-11.
"T-3 days until #BitTorrentSpeed is available for 100 million users around the world!"
Dapp (Decetralized App ) demo day on 8th of July.
STEEM Trading Update by my friend @cryptopassion
Here is the chart of yesterday :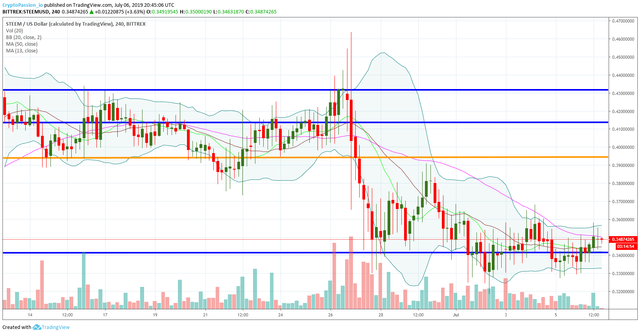 Here is the current chart :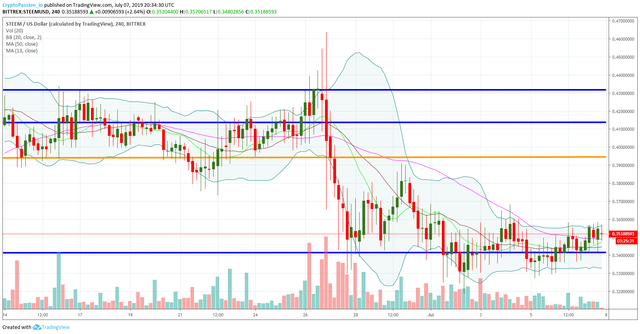 We are stabilizing on the support line at 0.34$ since days now, waiting for the next big move on the BTC. Let's really hope that the BTC will go up because if it is not the case, I'm sure that this support line at 0.34$ will be broken just in some seconds and that we will go in the direction of the last low around 0.23$. If it is a UP, first objective is the orange resistance line around 0.39$.
Last Updates
Play on a fair STEEM CryptoGaming website !
Join this new Free To Play on the STEEM Platform !