Welcome to the Daily Crypto News: A complete Press Review, Coin Calendar and Trading Analysis. Enjoy!
Bitcoin (BTC) could soon shoot to $20,000 as a result of emergency measures from the United States Federal Reserve, also known as The Fed, one of the industry's biggest firms has said.


Fed echoes 2008 crisis moves


In a tweet on Sept. 18, Arthur Hayes, CEO of derivatives giant BitMEX, forecast that fresh quantitative easing (QE) would further decrease faith in fiat currency.


The comments come a day after the Fed swooped to decrease interest rates on some loans which reached more than 10%, or four times its target. More than $53 billion was pumped into the economy. 


"QE4eva is coming. Once the Fed gets religion again, get ready for #bitcoin $20,000," Hayes wrote. 


The Fed's QE injection marked its first emergency intervention since the end of the 2008 financial crisis, an event directly leading to Bitcoin's creation. 
View


Bitcoin has dived out of a narrowing price range and may see a deeper drop if key trendline support near $10,120 is breached.


Acceptance below $10,120 would expose the recent low of $9,855.


Some notable observers believe the decline may be reversed following Wednesday's Federal Reserve rate cut, although historical data suggests otherwise.


On the higher side, $10,956 (Aug. 20 high) remains the level to beat for the bulls.
The number of Bitcoin (BTC) wallet addresses holding a minimum of 10 BTC — worth over $100,000 to press time — has hit an all-time high, multiple data sources reveal.


According to BitInfoCharts' Bitcoin Rich List, as of Sept. 17, there are 157,210 addresses holding between 10 and 1,000,000 BTC.


Earlier this month, Coin Metrics' State of the Network report had plotted the latest data historically to reveal that these mega-holders are at an all-time high for the network.
Binance.US, United States branch of major cryptocurrency exchange Binance, announced that the opening of accounts registration, scheduled for Wednesday, will not include New York, Washington, Florida and 10 more states.


According to the blog post published on Sept. 17, registration will start at 8 a.m. ET on Sept. 18 in most U.S. states, excluding the following: Alabama, Alaska, Connecticut, Florida, Georgia, Hawaii, Idaho, Louisiana, New York, North Carolina, Texas, Vermont and Washington. The post continues:


"Although it is upsetting that we cannot offer Binance.US in [these] states […] at this time, please rest assured that this is just the beginning, and it is our mission to bring access to those of you in these states many of us call home."
Employees at cryptocurrency news publication CoinDesk were told Tuesday that the firm is moving into office space in the same building as its parent company, Digital Currency Group (DCG), a transition that will take place in March 2020.


In an email sent to employees, his first ever to CoinDesk's entire staff, DCG founder and CEO Barry Silbert outlined four reasons for the move, vowing that while seeking to create new business synergies with the media company, one of three wholly-owned subsidiaries, the parent would continue to respect and strengthen the editorial independence of the publication, founded in 2013.


The other two subsidiaries, Grayscale Investments and Genesis Trading, work out of the DCG office building in Manhattan.
? Daily Crypto Calendar, September, 18th?
Ten high-impact sports-blockchain startups pitch to leading blockchain investors and VCs.
"Safecoin will be announcing SafeNodes Phase II on Wednesday, Sept 18."
GRI PropTech India 2019 in Mumbai.
On Sep 18th, 10AM (UTC+8) for UNetwork 3rd Monthly Live AMA, your exclusive chance to ask our project lead @yilu_uuu anything related.
DeFi Asia in Shanghai from 2:30 – 5:30 PM (CST), co-hosted by Harmony, Findora, and Algorand.
STEEM Trading Update by my friend @cryptopassion
Here is the chart of yersterday :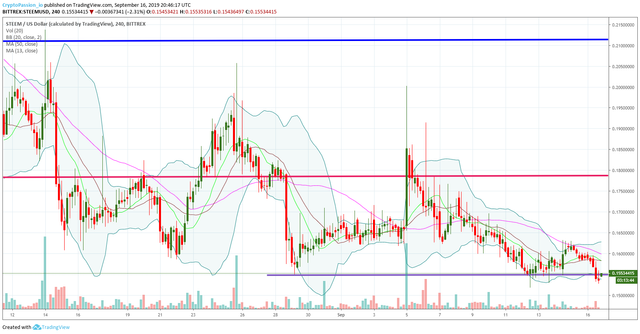 Here is the current chart :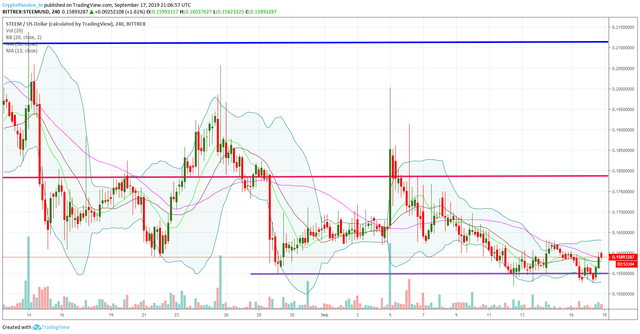 What a nice pattern that we have on the STEEM. We have a W pattern or a double low if you prefer that we can clearly see on the chart. For the one who still don't know that pattern, it is a bullish pattern ! It looks like that the Alt Coins are taking back some percenst of the global market compared to BTC. We are still far from the Alt Season that we experienced back but it could be the start… why not ? Regarding the STEEM, let's see if we can go test the resistance line in red around 0.178$.
Last Updates
Join this new Free To Play on the STEEM Platform !