Welcome to the Daily Crypto News: A complete Press Review, Coin Calendar and Trading Analysis. Enjoy!
What matters is that 10 years after an unidentified software engineer created it, this decentralized system for recording sequences of transactions continues to do its job, block after block, with no authority in charge, no user able to alter past transactions, and no person or entity able to shut it down.

The more this goes on, the more it reinforces the powerful vision behind bitcoin: a peer-to-peer, disintermediated system for exchanging value around the world. And in that context, we can also think of bitcoin the cryptocurrency – differentiated from bitcoin the system – as a unique, provably scare digital asset that expresses the overall value in that vast potential.
Bitcoin is valuable because it exists
A point that's lost on critics like Novak is that the longer bitcoin simply survives – in the face of the $90 billion valuation that stands as a de facto bounty for hackers to try to take it down, compromise its security or corrupt it – the more its overall value is confirmed.

Bitcoin is progressively proving itself to be an unstoppable, digital system of global exchange, one that functions outside of the traditional national government-mandated system of currency and banking. That status is what gives bitcoin its value.

Of course, the global impact of the bitcoin value exchange system, and therefore its worth to humanity, will be significantly enhanced if adoption advances to a much wider scale and it is used frequently in the world's transactions. And, yes, a great deal of development work is still needed if it is to ever reach that point.
Samsung SDS has reportedly agreed to cooperate with Indian IT giant Tech Mahindra in an attempt to enter the overseas blockchain market, The Korea Times writes Sunday, April 14.


SDS, the systems integration arm of Korean tech behemoth Samsung, allegedly plans to expand the use of its Nexledger blockchain platform in India, the United States and Europe.


As per the agreement, the two companies will reportedly seek more business opportunities in the region. Moreover, Samsung SDS will cooperate with Tech Mahindra on further Nexledger updates.
Bitcoin (BTC) prices and altcoin prices could have already hit their lowest point, new analysis from cryptocurrency exchange Binance concluded on April 11.


In the latest edition of its research bulletins, the exchange's dedicated analytics arm, Binance Research, investigated various current phenomena and trends within cryptocurrency markets.


Among them was correlation between Bitcoin and altcoin prices, data from 2014-2019 confirming that the 90 days to mid-March represented the longest period of high correlation in market history.
The United States Securities and Exchange Commission (SEC) reportedly required two funds to eliminate the word "blockchain" from their monikers, Bloomberg writes April 12, citing sources familiar with the matter.


The exchange-traded funds (ETFs) of both Amplify and Reality Shares reportedly mentioned blockchain in early filings. Per Bloomberg's unarmed interlocutors, the two funds were encouraged to change their names at the last minute in 2018.


Despite eliminating the word "blockchain," the funds' tickers still refer to the technology. Ampilfy's funds are traded as BLOK, while the product is described as "transformational data sharing ETF." Reality Shares are using the title BLCN, depicting its product as "Nasdaq NexGen economy ETF."
The International Monetary Fund (IMF) and the World Bank have jointly launched a private blockchain and a so-dubbed quasi-cryptocurrency, the Financial Times (FT) reports on April 12.


According to the newspaper, the asset called "Learning Coin" will be accessible only within the IMF and World Bank. The coin has no money value and thus is not a real cryptocurrency, the FT underlines.


As the FT has learned, "Learning Coin" was launched in order to better understand the technologies that underlie crypto assets. Its app will serve as a hub where blogs, research, videos and presentations are stored.
? Daily Crypto Calendar, April, 15th?
"Public launch of Mainframe OS is early April."
"We are ready to @Coinbase NJ. Our beta test starts in 3 weeks."
The reward program for PSN 1.0 will end with the final reward block height of 328,000. All ERC20 FSN and P-FSN will be allocated on April 15…
"… The public Mainnet launch is expected during the week of April 15 (final date coming soon)!"
"… At 10:00 AM ET (2:00 PM GMT/UTC) Partners and Platinum Partners will have an exclusive opportunity to buy additional EFIN coins."
STEEM Trading Update by my friend @cryptopassion
Here is the chart of yesterday :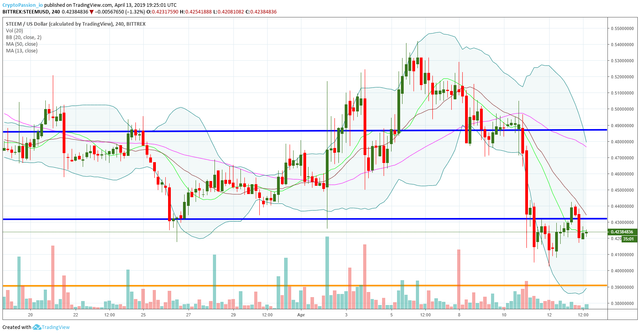 Here is the current chart :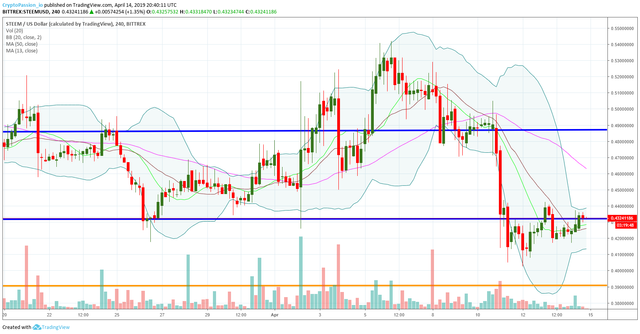 We are currently sitting exactly on the support line at 0.43$ and we are in waiting mode I think, waiting to see in which direction the BTC will go. Let's hope it will be a UP Break Out but no one can be sure of the direction. Let's see what the market will decide and follow the trend, it is always the safest choice.
Last Updates
Join this new Free To Play on the STEEM Platform !