Welcome to the Daily Crypto News: A complete Press Review, Coin Calendar and Trading Analysis. Enjoy!
The takeaway:


Coinbase is exploring plans to set up its own "captive" insurance company, industry sources said.


At the start of this year, insurance broker Aon began establishing captive companies in the Cayman Islands, working with a handful of cryptocurrency firms.


Aon says a captive structure can help firms get access to additional coverage at more reasonable prices.


Insurance for crypto remains scarce, and major exchanges Kraken and Huobi say they simply self-insure by setting aside coins to cover losses from thefts or hacks.
Top crypto exchange Binance has launched its margin trading platform, an official blog post published today, July 11, reveals.


Binance's move to expand trading possibilities to meet the full scope of institutional and retail traders' needs had already been indicated by exchange CEO Changpeng Zhao this May — the same month the exchange had suffered a major hack incurring $41 million in losses.


In today's announcement, Binance notes that margin trading — which allows exchange account holders to use their existing balances as collateral to open both long and short positions on crypto assets — can significantly amplify profit potential as compared with regular trading. 
The United States Securities and Exchange Commission (SEC) has given blockchain-based startup Blockstack the go-ahead to run a $28 million public token offering under Regulation A+, according to a report by The Wall Street Journal (WSJ) on July 10.


Blockstack will reportedly launch its token offering online tomorrow, July 11. While other firms have previously taken advantage of Regulation A+ funding, this marks the first time that investors will receive a token, rather than shares in the company.


Regulation A+ is an initial public offering (IPO) alternative geared towards startups in need of early funding. Regulation A+ funding was introduced in 2012 via the "Jumpstart Our Business Startups Act." As the report says, any member of the public can partake in a Regulation A+ funding round.
Anchorage, a company providing crypto custody services for institutional investors, has just raised $40 million in a Series B funding round.


In an announcement Wednesday, the firm said the round was led by Blockchain Capital, with Visa Inc. and existing investors such as Andreessen Horowitz also participating. Anchorage has now raised $57 million in total funding since 2017.


Diogo Monica, Anchorage co-founder and president, said:


"Our mission at Anchorage is to advance institutional participation in the digital asset class, and this funding will improve our ability to do precisely that. To have the support of pioneering organizations like Visa and Blockchain Capital is a validation of Anchorage's vision for the emerging economy of digital assets."
Tyler and Cameron Winklevoss, co-founders of the New York-based crypto exchange Gemini, may soon join the Libra Association, the consortium governing Facebook's proposed cryptocurrency.


"We're definitely looking at it in earnest and we're excited about the project," Cameron told CoinDesk Tuesday.


Tyler added that in their view, Libra is a harbinger of cryptos to come:


"Our feeling is, this is the first of many FANG [Facebook, Amazon, Netflix and Google] companies to have a token project. Our prediction is in the next 24 months almost every FANG company will have a coin or be working on some sort of project."
? Daily Crypto Calendar, July, 11th?
6th Airdrop Snapshot
ColossusXT will be listed on SWFT Blockchain. $COLX can be bought with almost 200 different cryptocurrencies on SWFT app.
"On July 11th, $NULS will be holding our Basic and Business Application Module Workshop in San Jose, CA."
Learn how to create your MRC20 token and how to deploy a smart contract for ICO in Mchain.
"6 Days to go till RIDE opens up new features for the #Waves ecosystem's users!"
STEEM Trading Update by my friend @cryptopassion
Here is the chart of yesterday :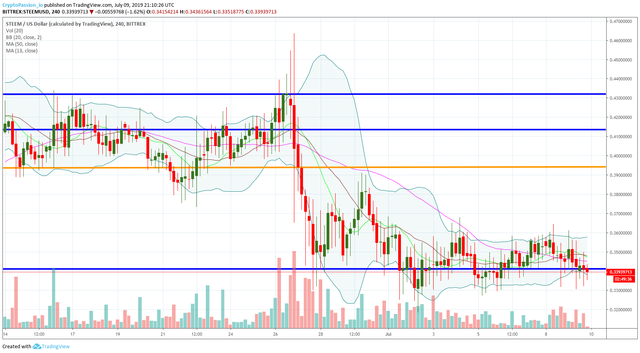 Here is the current chart :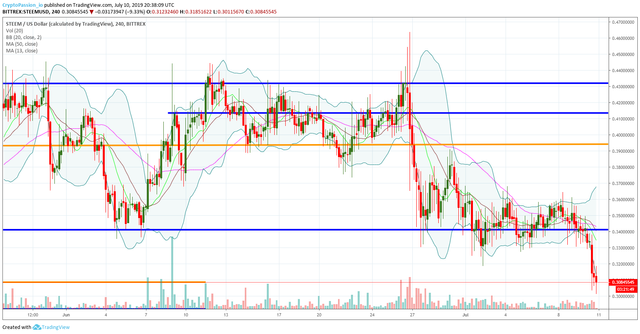 I was saying you since days that the market was trying to break the support line at 0.34$, it is now done and as expected, we are droping heavly… That line became a major support line over the weeks and the break of it is again a very negative signal for the value of the STEEM… Lot of altcoins are using the excuse of a small correction on the BTC to have important drop but as always for correction, STEEM is again one of the best.
Last Updates
Play on a fair STEEM CryptoGaming website !
Join this new Free To Play on the STEEM Platform !