Welcome to the Daily Crypto News: A complete Press Review, Coin Calendar and Trading Analysis. Enjoy!
The crypto market sprang back to life with bitcoin's surge to nearly 5-month highs yesterday. But why?


To those who have been paying attention to the charts, it shouldn't come as a surprise. The leading cryptocurrency by market value jumped nearly $1,000 to $5,080 in a 60-minute window early on Tuesday, confirming a transition from bear market to bull market that it had been signaling for some time.


In fact, after a year-long bear market, savvy traders were waiting on a trend change that would gain credence if and when prices established the most basic of all bullish technical patterns – a higher low and a higher high on its weekly charts. (A higher high would have been confirmed above $4,236.)
The U.S. Securities and Exchange Commission (SEC) has published fresh regulatory guidance for token issuers, nearly half a year in the making.


The guidance focuses on tokens and outlines how and when these cryptocurrencies may fall under a securities classification, according to the document. 


SEC Director of Corporation Finance William Hinman first revealed that the regulator was developing new guidance for crypto tokens last November, and other members of the agency, including FinHub head Valerie Szczepanik and Commissioner Hester Peirce, have repeatedly said that SEC staff was working on the document.


In November, Hinman said the "plain English" guidance would help token issuers easily determine whether or not their cryptocurrency would qualify as a security offering.
The number of active Bitcoin (BTC) wallets increased in the two weeks leading up to the recent cryptocurrency surge, Bloomberg reported on April 3.


Citing market intelligence firm Flipside Crypto's analysis, Bloomberg reported that a high number of digital wallets holding Bitcoin became active two weeks before the cryptocurrency market rally. Bitcoin skyrocketed on April 2, gaining 15 percent over the night and pushing over $4,500 for the first time this year.


According to Flipside Crypto, 40 to 50 percent of all Bitcoin had been held in digital wallets that were inactive from one to six months, while the average has reportedly been 10 percent since March 15. Eric Stone, co-founder and head of data science at Flipside Crypto, said that "there are more people warming up to the idea of buying Bitcoin."
According to personal finance firm Credit Karma Tax, filers who reported short-term capital losses for cryptocurrencies in the first month of 2019 jumped fivefold year-over-year. After the incredibly bearish crypto markets of 2018, data from early tax filers highlights the fact that more investors are claiming losses this tax season. However, a survey the company recorded back in November found that the number of people deciding not to file crypto taxes has increased.
During a livestreamed Q+A yesterday, Coinbase CEO Brian Armstrong was asked about "the most ambitious thing Coinbase wants to do in the next five years." He answered that he hoped his company would "like overthrow some corrupt dictators in the world." It's a fine sentiment (spotted by Mashable)—though hard to square with Coinbase's very recent acqui-hiring of a team of midnight-black hackers who made their bones helping dictators target dissidents worldwide.
? Daily Crypto Calendar, April, 4th?
Sentinel Protocol will be joining this year's edition of Deconomy, where John Kirch will shed light on the current cybersecurity issues.
"To participate in this exciting airdrop, you simply have to hold uDOOs on April 4th 2019 and successfully register your details here."
CRW sponsors CoinFestUK 2019 from Apr 4-6.
"Join @enjin on April 4th at 1PM UTC for an AMA in the #Binance English Telegram group. "
The creation and distribution of ZNN is made through the ZX algorithm that follows a supply demand pattern.
STEEM Trading Update by my friend @cryptopassion
Here is the chart of yesterday :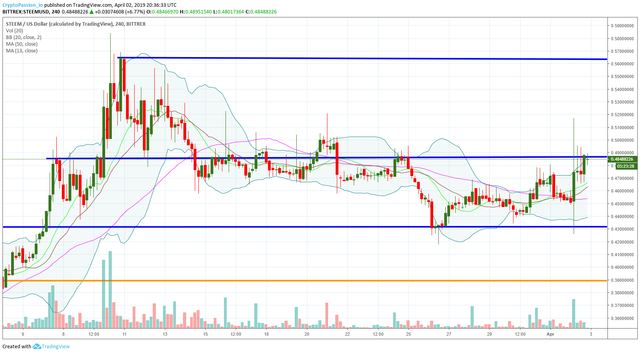 Here is the current chart :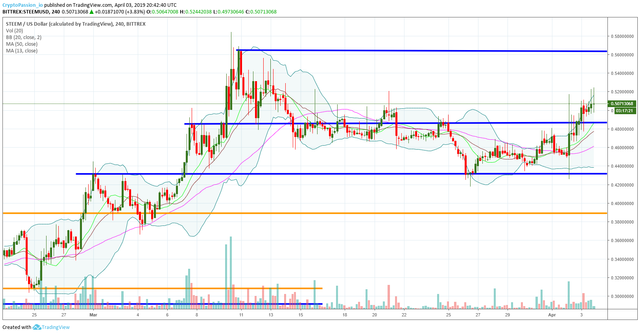 We finally broke the resistance line at 0.49$ but I think we will go test soon that line to see if we can use it as support line. We can see lot of indecision in the last candles so I expect a correction to go test back that line which should be a support now around 0.49$.


Last Updates
Join this new Free To Play on the STEEM Platform !