Welcome to the Daily Crypto News: A complete Press Review, Coin Calendar and Trading Analysis. Enjoy!
Donald Trump saying he is not a fan of Bitcoin (BTC) and cryptocurrency is "yuge" for the industry, commentators were suggesting after new tweets on July 12.


In the hours after the United States' president delivered his lackluster appraisal of crypto, the Bitcoin price stayed stable, only to then begin growing to hit 1% gains Friday. 


Negative or not, for proponents, the event marked a psychological milestone for Bitcoin, as Trump had previously held off from mentioning it in public. 
Federal Reserve Chairman Jerome Powell said he can envision a return to an era where multiple currencies are in use in the United States.


During Powell's testimony before the Senate Banking Committee on Facebook's planned Libra cryptocurrency, he said: "The size of Facebook's network means it could be, essentially, immediately systemically important."


Though the initiative raised "a lot of serious concerns," including privacy, money laundering, consumer protection, and financial stability, he began to speak favorably about other cryptocurrencies.
Mining difficulty on the Bitcoin (BTC) network has taken its steepest upturn in almost a year, data from major Chinese mining pool BTC.com reveals.


On July 9, difficulty surged by over 14% to hit 9.06 trillion (9.06 T), at an average hash rate of 64.85 EH/s — a new all-time-high in the network's history.


The last time the network posted such a sharp increase in block producing difficulty was back in late July 2018, when it soared almost 15% over a 2,016 block interval. 
At that time, however, average hash rate was at 42.59 EH/s and absolute difficulty was at a significantly lower 5.95 T.
Anchorage, a company providing crypto custody services for institutional investors, has just raised $40 million in a Series B funding round.


In an announcement Wednesday, the firm said the round was led by Blockchain Capital, with Visa Inc. and existing investors such as Andreessen Horowitz also participating. Anchorage has now raised $57 million in total funding since 2017.


Diogo Monica, Anchorage co-founder and president, said:


"Our mission at Anchorage is to advance institutional participation in the digital asset class, and this funding will improve our ability to do precisely that. To have the support of pioneering organizations like Visa and Blockchain Capital is a validation of Anchorage's vision for the emerging economy of digital assets."
A loose group of developers are testing out the idea that the combination of bitcoin and orbital communication might provide a means for stopping governments or other powerful entities from suppressing news they don't like.


Censorship is a worldwide problem, with one of the more recent examples include a new law strengthening the Russian government's control over the internet, which pundits worry will be used to censor information that reflects poorly on it. As such, technologists have long tried to chip away at this problem with technology that ranges from privacy browser Tor to the walkie-talkie messaging app Zello, the latter of which Venezuelans used to read information that's uncontrolled by the government and to organize protests a few years back.


A more recent effort is being waged by a small but global group of developers who are sending messages using satellites paired with software from the bitcoin technology startup Blockstream, initially deployed with the grand goal of allowing people worldwide access to bitcoin even if they didn't have internet.
? Daily Crypto Calendar, July, 12th?
"Third (stage 3 at block 1 500 000) reduction of POW miner's reward," in Q3 2019.
HUOBI Listing
"We are hosting an AMA this Friday, July 12th at 3:00 pm EST here on Reddit to go over an agenda of items and answer community questions."
HarmonyAsia Korea from July 12 – 18.
"Ask us anything! Live Telegram AMA Friday 12 July starting at 8:00 AM GMT"
STEEM Trading Update by my friend @cryptopassion
Here is the chart of yesterday :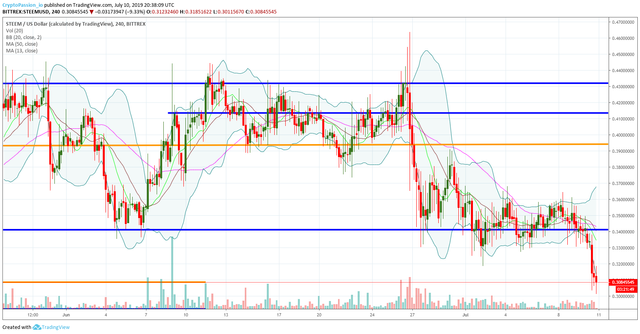 Here is the current chart :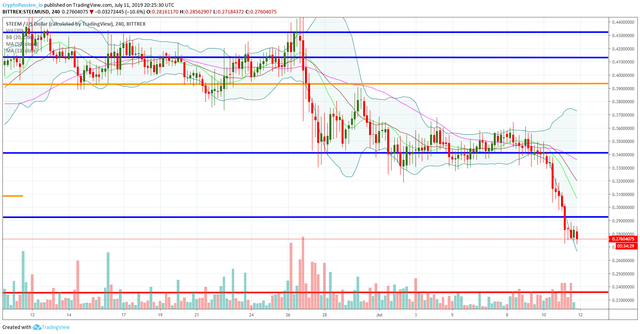 The correction is still in progress on the STEEM and looks really powerfull. Today we broke the support line around 0.29$ and we are continuing to drop. We have a high risk now to go in the direction of the 0.24$ support line in red… yeah it is really low but we don't have real support before. Let's see !
Last Updates
Play on a fair STEEM CryptoGaming website !
Join this new Free To Play on the STEEM Platform !