Welcome to the Daily Crypto News: A complete Press Review, Coin Calendar and Trading Analysis. Enjoy!
Libra is a security, says a former Commodity Futures Trading Commission (CFTC) chairman in prepared remarks to the U.S. House of Representatives.


Gary Gensler, who chaired the CFTC from 2009 to 2014 and previously held leadership roles at the U.S. Treasury Department, says in written testimony that Facebook's new cryptocurrency project looks like an investment vehicle and that Libra may even resemble some banking structures.


Gensler will testify before the House Financial Services Committee on Wednesday, as part of a panel of expert witnesses on the potential implications of Libra. He will join Public Citizen president Robert Weissman, Columbia University law professor Katharina Pistor and Georgetown University law professor Chris Brummer.
Cubans are quietly exploring cryptocurrency use-cases on the politically isolated island, even watching Facebook's Libra project with cautious optimism.


Cuban expat Claudia Rodriguez of the Brazilian startup Fusyona, the sole bitcoin exchange proactively serving Cubans, told CoinDesk the exchange has nearly 700 accounts since launching in 2018. She said up to 60 users purchase a total of one or two bitcoins every week.


"For Cuba, that is a lot," Rodriguez said. "Cuba is probably going to be very interesting for Libra [developers] and I hope there will be some potential there." In its launch materials for the Libra stablecoin, Facebook has focused heavily on the potential to connect the world's underbanked with digital financial services.
Facebook's blockchain lead David Marcus told lawmakers he would be willing to accept 100 percent of his salary in the social media giant's proposed Libra cryptocurrency.


During a Senate Banking Committee hearing on the controversial project Tuesday, the ranking member of the panel, Sen. Sherrod Brown (D-Ohio), asked Marcus if he trusted Libra enough to put skin in the game this way.


"You really think people should trust you with their hard-earned money, I think it's delusional," Brown said, after enumerating Facebook's history of privacy abuses. He then posed the question: "Will you accept all of your compensation in that new currency?"
The volume of blockchain in healthcare market worldwide is forecast to reach more than $1.7 billion by 2026.


In a press release published on July 16, consulting services to information technologies firm Acumen Research and Consulting (ARC) has projected that the global blockchain in healthcare market on the global scale will reach over $1.7 billion by 2026, with a compound annual growth rate of 48.1%.


Based on geography, America purportedly dominates with the largest share in the global blockchain in healthcare market, wherein the United States is a mature market that hosts the greater adoption of smart technology in manufacturing and healthcare.
Former Republican congressman and presidential candidate Ron Paul says he is in favor of cryptocurrencies and blockchain technology because he likes competing currencies. Ron Paul delivered his remarks in a "Squawk Alley" interview on CNBC on July 15.


According to Paul, cryptocurrencies are a great idea, and governments should only step in to regulate the space to prevent fraud:


"… I'm for the least amount of regulation. I don't know what's gonna happen to cryptocurrencies. I think it's a great idea. And I only have one rule: no fraud … I think that the government has a role. And [if] somebody has a case that there is fraud, I think it should be investigated … What I want to do is legalize the freedom of choice, absent blatant fraud."
? Daily Crypto Calendar, July, 17th?
"We are excited to announce the official release date of Equal Wallet Connect on the 17th of July."
Workshop with dApps and writing smart contracts on WAVES blockchain in Saint Petersburg, Russia.
"Join the SDF team and @Coinsquare for a #StellarMeetup on Wednesday, July 17."
Fireside chat with Ted Livingston, CEO of Kik and Founder of Kin from 18:30 – 21:00.
"Join us in Cambridge, England, 17 July to design the best trading agent."
STEEM Trading Update by my friend @cryptopassion
Here is the chart of yesterday :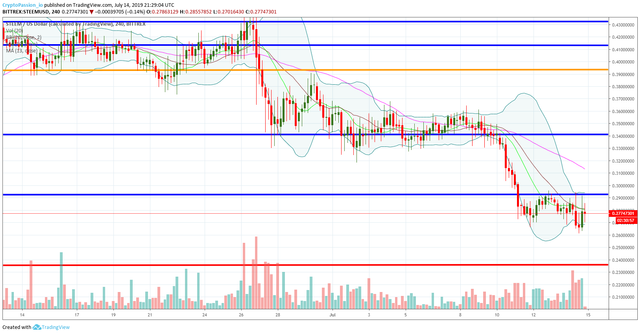 Here is the current chart :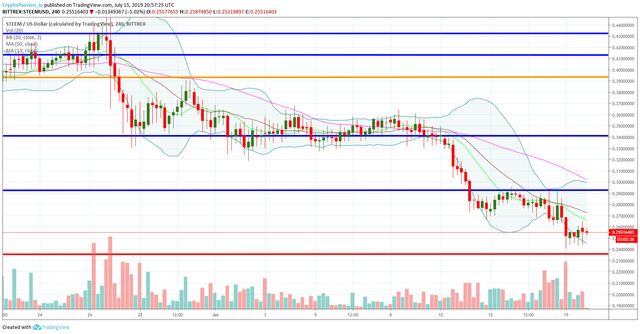 We are currently consolidating just upper the major resistance line at 0.24$ while the BTC is having a very nice bounce. It is becoming hard for all the altcoins and STEEM is not better than other and is sometimes even worst. What to say, we have to wait for better days, the market doesn't really care currently for the altcoin market and I really don't know how many time it will last like that. Courage and perhaps focus on the BTC if you want do short term trades.
Last Updates
Play on a fair STEEM CryptoGaming website !
Join this new Free To Play on the STEEM Platform !