Facebook Plans Cryptocurrency Launch in First Half of 2019: NYT Report ;
Ethereum Upgrades as Hard Forks Activate on Blockchain ;
Ripple Head of Markets: XRP Token Listing Was 'Coinbase's Independent Decision' ;
Big Four Auditor PwC Trials Blockchain System for Verifying Employee Credentials ;
Kraken Offers $100K Reward for Help Finding Quadrigacx Funds ;
? Daily Crypto Calendar, March, 1st?
STEEM Trading Update
Welcome to the Daily Crypto News: A complete Press Review, Coin Calendar and Trading Analysis. Enjoy!
Facebook is talking to exchanges about potentially listing a cryptocurrency.


That's the main finding from a New York Times story published Thursday on several efforts to introduce native cryptocurrencies to widely used messaging platforms. The Times reports that Signal and Telegram are also planning to roll out tokens over the next 12 months.
Citing "four people briefed on the negotiations," the Times reports that Facebook has told exchanges it expects to get a product out in the first half of 2019.
Two long-anticipated upgrades appear to have officially activated on the ethereum blockchain, the world's second-largest by market value, without incident.

At 19:57 (UTC), the sixth and seventh system-wide upgrades to the software, dubbed Constantinople and St. Petersburg, respectively, rolled out on the main network at block number 7,280,000. As seen on blockchain monitoring website Fork Monitor, there is so far no evidence of a chain split that would suggest a portion of ethereum users are still running an older ethereum software.

Past hard forks of the ethereum blockchain have encountered such setbacks, most notably in 2016 with ethereum classic, a group that continued running an older software instance when a controversial upgrade was introduced.
Blockchain payment network Ripple did not influence United States cryptocurrency exchange Coinbase's decision to list XRP, a senior executive claimed on social media on Feb. 27.

As part of a Twitter debate involving United Kingdom-based entrepreneur and investor Alistair Milne, Ripple's head of markets, Miguel Vias, broke ranks with previous correspondence from Ripple about Coinbase.

Milne had written to the company asking for comment on rumors, which assert that Ripple either paid or offered an incentive to Coinbase in order to list XRP on its professional trading platform, Coinbase Pro.
Big Four audit and consultancy firm PriceWaterhouseCoopers (PwC) is conducting a trial of its new blockchain-powered platform for ensuring the integrity of employee credentials. The trial, launched in partnership with the Institute of Chartered Accountants of Scotland (ICAS), was announced in a PwC press release published on Feb. 28.


PwC's "Smart Credentials" platform, earlier unveiled on Feb. 13, implements blockchain to issue, store and securely share digital certificates for employees' professional qualifications.


For the trial with ICAS, PwC employees, who have qualified as chartered accountants at the Institute within the past two years, are being issued with a blockchain-based certificate from ICAS that becomes part of their unique digital wallet.
The San Francisco crypto exchange Kraken has announced the company is offering a $100,000 reward in exchange for a solid lead toward finding the missing Quadrigacx coins. Kraken has explained the company wants to bring more "awareness and attention" to the case and hopefully locate some of the lost funds.
? Daily Crypto Calendar, March, 1st?
Smart Staking reward rate decreased by 2/3 in order to release NTF and protocol 2.0 PoF begins running for sealers.
IG singing contest cycle from Jan 21 – Mar 1 with rewards for highest voted videos.
Removal of unmoved coins will occur at block height 480000 (~March 1) and the estimated new supply is 3.5 million.
Digitex Futures Treasury releases first round of tokens for direct sale.
Livestream AMA from 11 AM – 12 PM PST (may extend to 12:30 PM).
STEEM Trading Update by my friend @cryptopassion
Here is the chart of yesterday :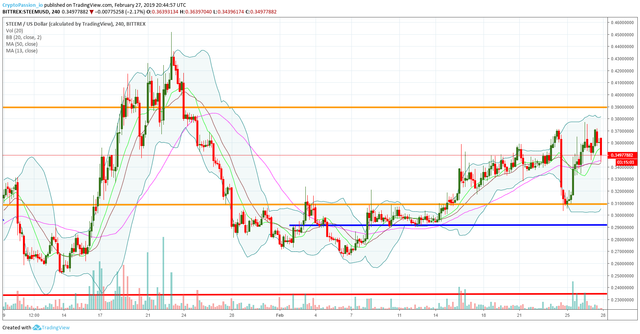 Here is the current chart :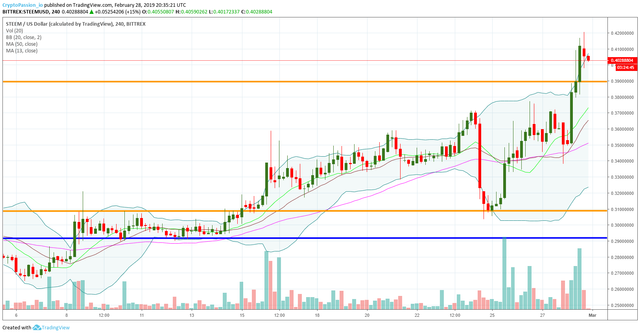 Yesterday I was little bit disapointed because my conviction was that we will try very soon to break the resistance line at 0.39$ but the BTC was not helping. The good surprise has been to see that the drop of yesterday on the BTC was a trap and that we are now back on the previous level.


This allowed the STEEM to go test the resistance line at 0.39 and we broke it :-D. We are now consolidating but it is really normal after a move like this. Expect a touch on the 0.39$ line which is now a support line before a possible UP continuation.
Last Updates
You don't want to miss a Crypto news?
Join SteemFollower and get Upvotes back !

https://steemitimages.com/DQmRhDtjokAZnGKi4QwheqksKTFo6m4fsjMYsNNrsitC1xk/upvote.gif
---
---
Posted from my blog with SteemPress : https://scrips.io/blog/mr-cryptolemon/%f0%9f%97%9e-daily-crypto-news-february-28th%f0%9f%92%b0/
---