Welcome to the Daily Crypto News: A complete Press Review, Coin Calendar and Trading Analysis. Enjoy!
The chief of the United States Securities and Exchange Commission (SEC) Division of Enforcement's Cyber Unit, Robert A. Cohen, has stepped down from his role at the commission.


According to an official announcement by the SEC, Cohen served as the first chief of the Cyber Unit since its inception in 2017.


The Cyber Unit is in charge of securities violations pertaining to cryptocurrency and digital assets, in addition to cyber-related trading violations and cybersecurity disclosures and procedures.


Regarding Cohen's work as chief of the Cyber Unit, the Division of Enforcement's co-director Steven Peikin said:


"The Cyber Unit has been a great success under Rob's strategic leadership […] Soon after its creation, the Cyber Unit immediately began filing impactful cases that protect investors and demonstrate the SEC's ability to respond nimbly to new and difficult challenges."
Bitcoin's three-day chart is reporting a golden cross, a long-term bull market indicator, for the first time since February 2016. A similar crossover seen six months ahead of the August 2016 mining reward halving paved way for a mega bull run.
History may repeat itself with mining reward halving due in less than 12 months.


BTC may rise back to $10,000 in the next 24 hours or so with short duration charts signaling seller exhaustion.


A UTC close above $11,120 is needed to revive the bullish view. On the downside, key support is seen at $9,049 (July 17 low).
Bitcoin witnessed a golden cross in the three days to Feb. 3, 2016 – six months ahead of the mining reward halving – following which the cryptocurrency charted its way to a record high of $20,000 by December 2017.

With another reward halving (effectively, a supply cut) due in less than 12 months, history may just repeat itself.

As of writing , BTC is changing hands at $9,500 on Bitstamp, down 31.55 percent from June's high of $13,880. The cryptocurrency could rise to $10,000 in the next 24 hours, according to the short-duration technical charts.
Square Crypto is focused on bitcoin, not the publicly traded company's specific products.


That was the message Monday during a Twitter ask-me-anything (AMA) with the head of Square's crypto team, Steve Lee.


The unit's playful Twitter account fielded questions from its followers as well as crypto-community luminaries. With tweets signed simply "Steve," it was Lee's first set of public remarks on the team's broad objectives since being hired in June.
Chinese importers in Russia are buying up to $30 million a day of tether (USDT) from Moscow's over-the-counter trading desks.


They use the cryptocurrency to send large sums back to their home country, which has strict capital controls.
Previously the merchants used bitcoin for this, but when the market crashed in 2018 they switched to tether, which is designed to maintain parity with the U.S. dollar.


Despite longstanding questions about USDT's collateral, in this market "nobody actually cares if tether is backed or not," says one Moscow trader.
Justice Joel M. Cohen of the New York Supreme Court (NYSC) has ruled to extend the preliminary injunction in the ongoing case of crypto exchange Bitfinex and Tether's parent company, iFinex, against the New York Attorney General (NYAG), on July 29.


Cohen reportedly decided to give a 90 day extension to the case, which apparently means that OAG can continue investigating. Lawyers of Tether tried to appeal to dismiss the motion immediately, but Cohen rejected their appeal.


Speaking before the court, iFinex also argued that the court does not have subject matter jurisdiction because Tether is not a security or commodity as there is no futures market. The companies' defense also stressed that Tether and Bitfinex are two different companies with two different business models, and that it is not proper to treat them as a single entity as the OAG does.
? Daily Crypto Calendar, July, 30th?
ARK reveals a "brand new project" building on ARK.
"Nathan Kaiser, Chairperson of the Cardano Foundation. Nathan will be joining Hong Kong Cardano Community meetup on July 30"
We're able to share all the details of the nOS blockchain in our new whitepaper — releasing July 30th, 2019.
Sigma privacy protocol activates, after release date pushed back one week from July 23 to 30.
"Sign up today for the first episode scheduled for July 30th at 2 pm EST/8 pm CEST!"
STEEM Trading Update by my friend @cryptopassion
Here is the chart of yersterday :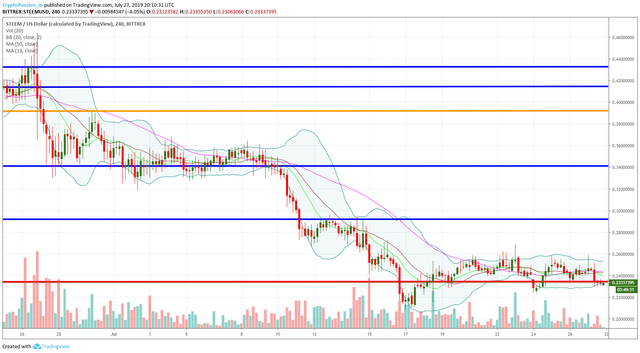 Here is the current chart :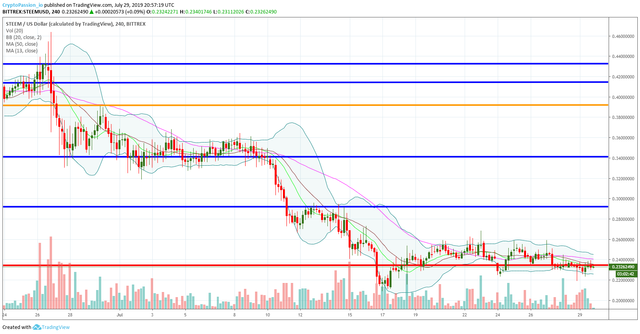 We are still testing that support line at 0.24$ since several days now and till now, we didn't have a real break of it, even sometimes with a correction on the BTC.


What do you think? Do you think the marketis thinking that 0.24$ is low enough for the STEEM? Do you think it is just a pause before the next correction? Your TA or opinions are welcome.
Last Updates
Join this new Free To Play on the STEEM Platform !