Welcome to the Daily Crypto News: A complete Press Review, Coin Calendar and Trading Analysis. Enjoy!
Cosmos, a highly anticipated blockchain itself designed to improve the interoperability between any number of other blockchains, has officially released a live software.


With the mining of its first block at 23:00 UTC, the project has launched Cosmos Hub, the first in a series of proof-of-stake (PoS) blockchains that will be created in the Cosmos ecosystem.


At present, users of the network will not be able to swap tokens between blockchains or otherwise connect to Cosmos Hub with existing blockchain networks until validators officially vote to activate what is called the Inter-Blockchain Communication (IBC) protocol.
Bitcoin's daily trading volume remains elevated at highs above $10 billion, going against the technical theory that investor interest tends to drop during periods of consolidation. Therefore, the ongoing sideways trading near $3,900 may end with a bull breakout toward the recent high of $4,20


Trading volumes have been strong since the corrective rally kicked off in early February, so a range breakdown looks unlikely.


Prices could first see a drop below $3,865 (March 12 low) due to the extended consolidation. That said, the short-term outlook would turn bearish only if the higher low of $3,743 created on March 3 is breached

More or less decentralized? For Jimmy Song, there's no in between.


An author and partner at venture firm Blockchain Capital, Song made that point repeatedly in a debate with IBM engineer and Hyperledger Fabric co-lead Chris Ferris at SXSW Thursday, where he told the crowd at the Hilton Austin in no uncertain terms: "You either have control over your stuff or you don't. It's a zero or a one."


The debate pitted permissioned blockchains – the private networks being pitched to big business – against permissionless blockchains – the technology undergirding bitcoin and other open-source networks. Billed as a "deathmatch" on the festival agenda, Song was determined to give the audience what they came for.
The Chicago Board Options Exchange (CBOE) will not add a new Bitcoin (BTC) futures market in March, the firm said in a statement on March 14.


Per the statement, CBOE is re-evaluating how it approaches trading digital assets. CBOE said:


"CFE is not adding a Cboe Bitcoin (USD) ("XBT") futures contract for trading in March 2019. CFE is assessing its approach with respect to how it plans to continue to offer digital asset derivatives for trading. While it considers its next steps, CFE does not currently intend to list additional XBT futures contracts for trading."
French commercial court clerks will use a blockchain-based platform to record changes in companies' legal status within the country. The development was revealed in an official announcement on March 14.


The blockchain network was jointly developed by IBM and the National Council of Clerks (NCC) and will reportedly be deployed starting in 2019 by the clerks operating in commercial courts across France. The blockchain platform is built on the Hyperledger Fabric framework and aims to increase transparency and efficiency in legal transactions associated with the lifecycle of companies in the registry.

? Daily Crypto Calendar, March, 15th?
Users participating in the staking pilot will be given a smart contract address to send their WAN to between the 15th and 31st.
EDC project burns approximately 2.5 billion coins as part of a five billion total coin burn between March and April.
Second Annual Salt Lake City Ravencoin meetup at 6PM.
Join us for the release of the Murmur web platform on the 15th of March. We'll also be making live EOS games within the app the same day.
MITH holders receive the number of MCX tokens equivalent to 10% of their MITH.
STEEM Trading Update by my friend @cryptopassion
Here is the chart of yesterday :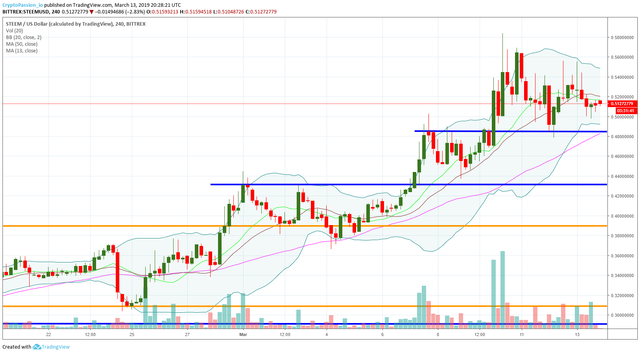 Here is the current chart :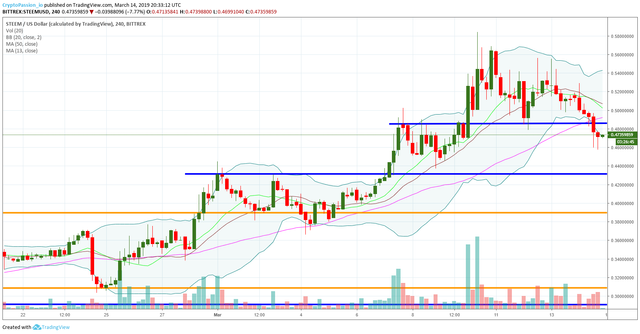 As you can see, we broke the support line around 0.49$. However, look the last candles, these candles could be an indicator of reversal and if it is the case, we will go back quickly upper than the support line again. It is a possible scenario as we had many bearish traps these last week. The second scenario is a touch (pull back) on the support line before the continuation of the drop. Let's see 😉
Last Updates
Join this new Free To Play on the STEEM Platform !
You don't want to miss a Crypto news?
Join SteemFollower and get Upvotes back !