Welcome to the Daily Crypto News: A complete Press Review, Coin Calendar and Trading Analysis. Enjoy!
The United States Attorney for the District of Arizona (DA) is seeking to retain a defendant in custody in a case of alleged shadow banking for cryptocurrency companies. In a court filing released on May 1, the DA states that they are concerned the accused will flee.


The filing follows the official announcement published by the Southern District of New York Attorney in April, ordering to charge an Arizona citizen Reginald Fowler and Israeli woman Ravid Yosef for allegedly operating an unlicensed money transferring business and bank fraud.


The recent filing asks the court to detain the defendant pending trial as he purportedly presents a risk of continued economic danger. Since the defendant purportedly has access to millions of dollars in bank accounts around the world and overseas ties that would facilitate the flight — among other factors — the Attorney office declares that the defendant poses a flight risk. The document specifically states:


"A consideration of the facts show that Defendant is a significant flight risk given his connections overseas, his financial means to support himself outside the United States, his disregard for this criminal investigation, and his potential involvement in other criminal activity."

Code for ethereum's highly-anticipated proof-of-stake (PoS) blockchain is on course to be finalized as early as sometime next month.


In a bi-weekly call between ethereum developers, Ethereum Foundation researcher Justin Drake said that code specifications for the first phase of ethereum's transition to a proof-of-stake network were "on track" to be finalized by June 30. Such specifications are effectively blueprints for developers looking to work on ethereum's next-generation blockchain.


"I've been continuing to fine comb Phase Zero in preparation for the spec freeze which we're targeting for the 30th of June," Drake remarked on the call. "We're still very much on track. Still, [code] simplifications are coming through which is great and the process of fine combing is also for finding final bugs."



Microsoft will promote JPMorgan Chase's Quorum blockchain to the global tech giant's business customers, the companies announced Thursday.


The Redmond, Washington-based software firm will support Quorum, JPM's private enterprise version of ethereum, through Microsoft's Azure cloud platform, the firms said. They will look to support adoption of the network through their new partnership, after signing a memorandum of understanding.


As a result, Quorum "will become the first distributed ledger platform available through [the] Azure Blockchain Service, enabling J.P. Morgan and Microsoft customers to build and scale blockchain networks in the cloud," the companies said in a press release.
Indian technology company Tech Mahindra will be implementing an anti-spam call solution powered by blockchain, Indian business daily Business Today reports on May 2.


This solution will allow phone companies to comply with the Telecom Regulatory Authority of India (TRAI)'s regulations to protect mobile phone subscribers from unsolicited Commercial Communication (UCC), which will come into effect in the last week of May.


Rajesh Dhuddu, Global Practice Leader of Blockchain at Tech Mahindra said that the TRAI regulations will affect 800 million subscribers.

Crypto Capital is slowly emerging as the central bank of the crypto industry. It facilitated banking services from one end of the industry—major crypto businesses and exchanges including Binance, Kraken and BitMEX—to the other, including the now-defunct QuadrigaCX and a number of smaller companies implicated in money-laundering schemes and fraud. And according to the the New York Attorney General, it still serves crypto exchange Bitfinex, where by the end of 2018, it was managing more than $1 billion of the exchange's client and customers funds.


Two people, allegedly related to Crypto Capital, were charged with money laundering on Tuesday. The feds claim that the pair ran a banking scheme for crypto companies, which involved Global Trading Solutions LLC—a company that has been identified as one of the shell companies owned by Crypto Capital, and used by Bitfinex. The scheme allegedly involved running a "shadow bank that processed hundreds of millions of dollars of unregulated transa
📑 Daily Crypto Calendar, May, 3rd💰
"… Important rework of a built-in wallet. Implementation is now comparable to Bitcoin BIP32 and BIP39 wallets…"
Auxiliary Stakes distributed to eligible participants.
Weekly rewards for Cointorox holders with over 100 OROX (Rewards: 5% of total holdings). Rewards distributed from leftover bounty tokens.
"New RCast coming tomorrow!"
Vano Narimanidze, Horizen country lead of Georgia will be speaking at the International Festival of Cyber Security in Tbilisi, Georgia.
STEEM Trading Update by my friend @cryptopassion
Here is the chart of yesterday :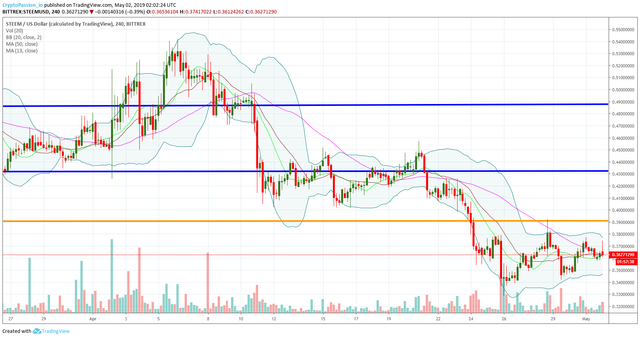 Here is the current chart :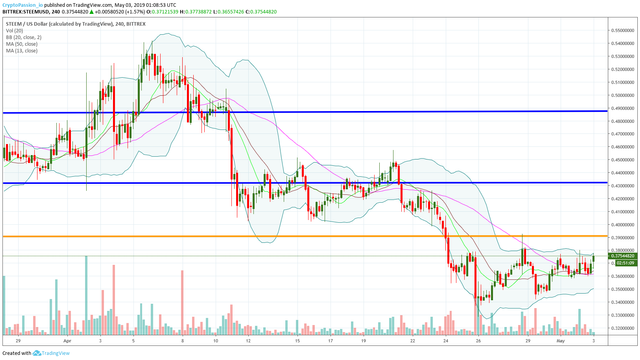 The BTC is helping us to go in the direction of our resistance line at 0.39$. Let's hope we will be able to touch it soon and even break that line to allow STEEM to have back a correct value compared to other altcoins. We are not so far so everything is possible even the STEEM is used to make smaller UP than the BTC.So exactly like the BTC with its resistance line at 5400$, the STEEM has not been able to go touch its resistance line at 0.39$. This is not a good sign because if we don't do it, we are doing lower highs which mean that the DROP is not yet finished. Let's see if we will find the volume and the power to go touch that line and even break it or if the sellers are preparing to be back very soon.
Last Updates
Join this new Free To Play on the STEEM Platform !